AK Steel Ready for Breakout
11/05/2008 11:10 am EST
Focus: STOCKS
AK Steel Holding Corp. (AKS) - This producer of flat-rolled carbon, stainless, and electrical steels broke a downtrend and flashed our internal indicator (the Collins-Bollinger Reversal, or CBR) for a trading buy signal last Tuesday.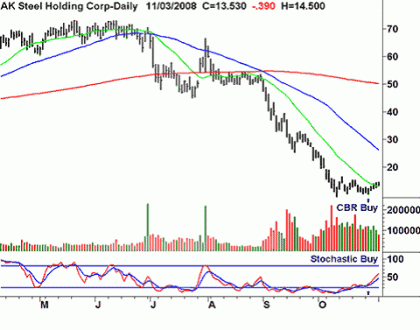 Since then, AKS has risen from $10.90 to $13.53.
But upside volume and low price indicate that AKS may just be starting a move that could take it to $25-$30, which would be about a 50% retracement from the breakdown from $50.
By Sam Collins of OptionsZone.com