Edison International Faces Staunch Technical Resistance
11/10/2008 9:54 am EST
Focus: STOCKS
Edison International (EIX) announced third-quarter earnings of $439 million, or $1.33 per share, compared with $461 million, or $1.39 a share, a year earlier. Excluding items, including 15 cents a share for the state penalty, earnings rose to $1.46 from $1.41 share. Sales during the quarter jumped 4.3% to $4.11 billion. Analysts had predicted a profit of $1.54 per share on sales of $4.29 billion.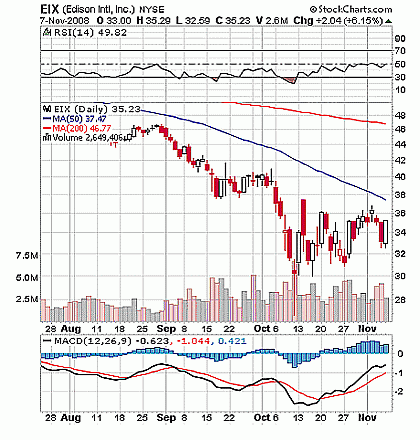 Operating margins rose to 23.5% from 22.8%.
Edison reiterated its August outlook for full-year earnings of $3.61 to $4.01 per share, though it now expects results would be near the middle of the range rather than at the high end.
Investors have shrugged off the company's earnings report and pushed the shares more than 4% higher. The stock is still facing strong resistance at the 37 level. This region has capped the equity on a daily basis since early October. The 37 area is also home to the stock's declining ten-week moving average, which EIX has not closed a week above since late June.
Heading into the report, pessimism was rampant on the shares. The Schaeffer's put/call open interest ratio for EIX stands at 1.40 in the 94th percentile. This ranking indicates that investors have been more pessimistically aligned toward the stock only 6% of the time during the past year.
Wall Street is also leaning bullishly toward the shares. Zacks reports that five analysts rate the security a "buy," while two rate it a "hold," and one gives it a "sell."
Traders should keep a close watch on the 37 region, as a break above this area should shake loose some of the bears, adding to the buying pressure on the security.
By Nick Perry of Schaeffer's Trading Floor Blog