Go "Buck Wild" with Dollar ETFs (Part 1)
11/18/2008 2:20 pm EST
Focus: ETFS
These days, making a buck in the market isn't as easy as it used to be.
The major market averages just logged their worst October performance since 1987, and unless you've been short for the past several months, you've likely been caught on the wrong side of the trade more than a few times.
Indeed, investors are still running for the exits, and it's hard to blame them. Nearly every economic metric out there looks dismal, and as far as I can tell, those metrics aren't likely to improve substantially anytime soon.
There is, however, a segment of the market that has staged a somewhat counterintuitive bull run dating back to July.
That segment is the value of the US dollar versus rival foreign currencies.
Take a look at this chart of the US Dollar Index, a measure of the value of the greenback versus a basket of six major foreign currencies.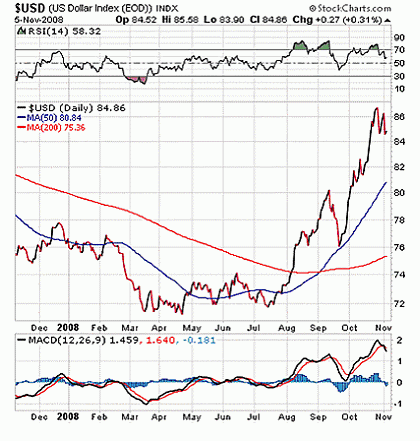 As you can see, the dollar bull began running in July, but it really headed for the races in August. September saw the dollar correct sharply, but since the September low, we've witnessed a big surge higher in the greenback.
So, how can we make a buck off of, well, this running buck? Simple—by using an exchange traded fund (ETF) designed to move higher along with the trend in the dollar.
More tomorrow in Part 2…
By Jim Woods of
OptionsZone.com