Go "Buck Wild" with Dollar ETFs (Part 2)
11/19/2008 10:37 am EST
Focus: ETFS
Thanks to Deutsche Bank (DB) unit PowerShares Capital Management LLC, investors have an excellent ETF designed to move in concert with the greenback. That ETF is the PowerShares DB US Dollar Bullish Fund (UUP).
The chart below of UUP shows how closely this ETF tracks the performance of the US Dollar Index.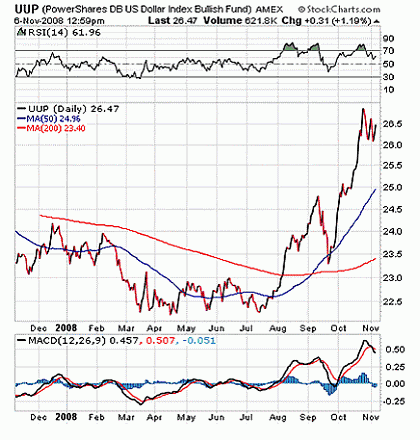 Through the use of long futures contracts on the Deutsche Bank US Dollar Index, the fund is designed to replicate performance that is akin to being long the dollar against the euro, Japanese yen, British pound, Canadian dollar, Swedish krona, and Swiss franc.
So far, so good—if the greenback keeps up its blistering pace and continues heading higher.
But what if the ink starts to dull on the greenback? What happens if, and when, the dollar reverts to the dismal doldrums of the past?
More tomorrow in Part 3 …
By Jim Woods of OptionsZone.com