Go "Buck Wild" with Dollar ETFs (Part 3)
11/20/2008 12:01 am EST
Focus: ETFS
Enter the PowerShares DB US Dollar Bearish Fund (UDN).
This ETF represents the flipside of the UUP coin. With UDN, you get performance that is inversely correlated to the movement of the US Dollar Index.
Like UUP, UDN uses futures contracts on the Deutsche Bank US Dollar Index to achieve its objective, only its contracts are akin to being short the dollar against the euro, Japanese yen, British pound, Canadian dollar, Swedish krona, and Swiss franc.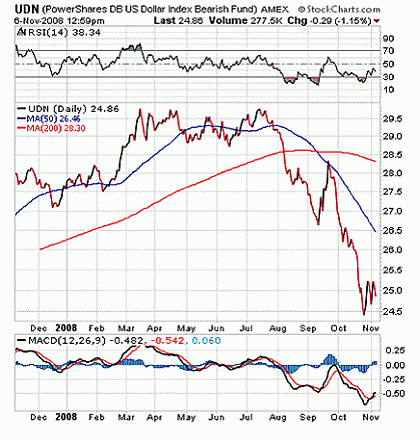 Simply put, when the dollar rises versus the aforementioned basket of global currencies, UUP adds a few coins to your purse. Conversely, when the dollar falls versus those same currencies, UDN is going to put a few shekels in your pocket.
Why the High Times for the Greenback?
Now that you know how well the dollar has performed recently, and now that you have the tools to go buck wild whether the dollar rises or falls, we have to assess the reasons why the greenback has done so well during the past several months.
More tomorrow in Part 4…
By Jim Woods of OptionsZone.com