Apple Inc (AAPL) Hits a New Annual Low
11/24/2008 12:00 am EST
Focus: STOCKS
Shares of Apple Inc (
AAPL
) are hitting a new annual low today. This is worth mentioning, as it now joins many of the other bellwether stocks that are breaking down. Here are few facts to consider.
Back in September, I discussed watching Apple as a broad market barometer. That then developed into a series of posts that I last touched on last week. In that post, we saw that Google Inc (GOOG), Microsoft Corp (MSFT), and General Electric Co (GE) had firmly violated their October lows. Apple had been the bright spot of the bunch, but it too has now continued to succumb to gravity.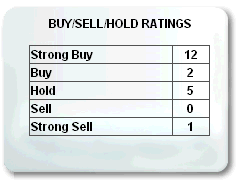 Aside from the impact of this well-known stock showing up on the new annual low list, there is the potential for downgrades to consider. According to Zacks, 14 of 20 analysts (70%) rank the stock with a "buy" rating.
As the monthly chart shows, shares of Apple rallied steadily from early-2003 until the end of 2007. This five-year bull run left the stock with a reputation similar to Teflon-nothing bad could stick to it.
Whether the current downdraft is just a function of investors selling whatever they can, or whether the weakness suggests expectation of slowing growth, the outcome is the same. We have a breakdown in a bellwether name that had, up until recently, been a stalwart of strength.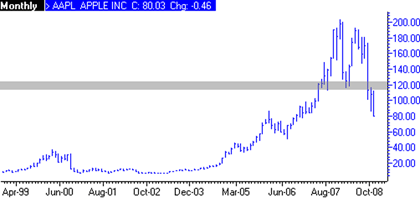 By Nick Perry of Schaeffer's Trading Floor Blog