A Stock That May Be Affected by Swine Flu News
04/28/2009 10:12 am EST
Focus: STOCKS
Would it be in poor taste to say that swine flu fever is sweeping Wall Street? (Right, probably so.) In any event, option players are flocking toward put options on Tyson Foods, Inc. (TSN). By midday, traders sent 7,180 puts across the tape, representing nearly 14 times the stock's average volume of 204 contracts.
Most of today's activity was concentrated on TSN's May 10 put, where 6,907 contracts have changed hands on open interest of 8,561. Two significant blocks of 580 and 1,000 contracts, respectively, traded at 10:40 a.m. at the bid price of $0.70.
This could indicate that the puts were sold to open, or it may represent the liquidation of existing contracts.
Prior to today's session, option players were almost unanimously bullish toward TSN. The stock's Schaeffer's put/call open interest ratio (SOIR) is docked at a modest 0.34, which marks a fresh annual low for the indicator.
At last check, TSN was down 9.2% to trade at $9.93. Earlier, the stock tagged an intraday low of $9.73.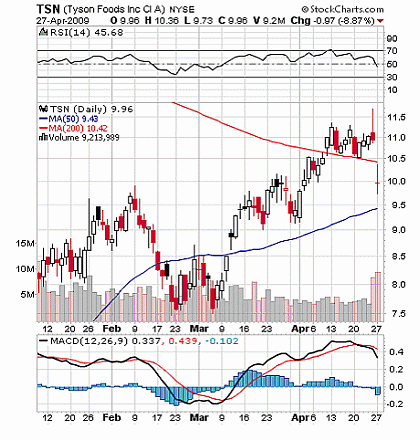 By Nick Perry of Schaeffer's Trading Floor Blog