Shorting Opportunity for Fortress (FIG)?
06/01/2009 10:38 am EST
Focus: STOCKS
Speculative investors are skeptical of the prospects for Fortress Investment Group LLC (FIG). During the past two weeks, traders on the International Securities Exchange (ISE) have bought to open 8,601 puts on FIG, compared to 4,609 calls. The stock's ten-day ISE put/call volume ratio of 1.87 ranks in the 84th annual percentile, indicating that bearish bets on FIG have rarely been in greater demand on the ISE.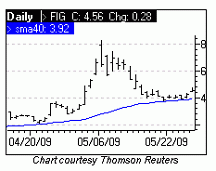 Short-term speculators are focusing their energy on the June 5 strike, which is home to peak front-month put open interest of 6,559 contracts. However, pessimistic players are expecting an even steeper plunge during the intermediate term. In the September series, peak put open interest of 6,800 contracts is docked at the 2.50 strike.
Despite gaining 328% year-to-date, FIG is currently living up to option traders' low expectations. The stock has shed 48.4% from its early May peak of $8.30—a rather drastic decline for just one month. However, FIG's swoon was supported by its 40-day moving averages, which has since helped guide the security tentatively higher.
By Elizabeth Harrow of Schaeffer's Trading Floor Blog