IMAX Breaking to Fresh Highs
05/16/2011 11:41 am EST
Focus: STOCKS
Fundamental and technical signals point to a significant potential upside move for motion picture technology company IMAX Corp. in the months ahead.
Shares of Imax Corp (IMAX) sprung to life when the 2009 movie Avatar revitalized a sluggish 3D and high-definition industry, forcing production companies all over the world to upgrade equipment and produce multiple versions of the same material.
The Company's Big Expansion
This company has now expanded operations all over the planet, with 45 theaters now open in China, and it plans to raise that number to 300 by 2016. There are now 528 IMAX screens, and this scalable model is just getting started.
Raking in New Revenue
IMAX signed deals for 101 future theaters during the first quarter alone, and now has a record backlog of 283 systems. Sitting back and collecting juicy licensing revenue was a nice lean model, but times have changed.
IMAX is now getting more skin in the game by striking joint-venture deals where it's able to get a piece of the concessions and a larger chunk of the box office receipts.
Company Profile
IMAX Corp. was incorporated in Canada. The company is an entertainment technology company specializing in motion picture technologies and large-format motion picture presentations.
The company's main business is the design and manufacture of large-format digital and film-based theater systems (IMAX theater systems) and the sale or lease of such IMAX theater systems or the contribution of IMAX theater systems under revenue-sharing arrangements with its customers.
The IMAX theater systems are based on proprietary and patented technology for large-format digital projectors and large-format 15-perforation film frame, 70 mm format (15/70-format) projectors.
The company's customers who purchase, lease, or otherwise acquire the IMAX theater systems are theater exhibitors that operate commercial theaters (particularly multiplexes), museums, science centers, or destination entertainment sites. The company generally does not own IMAX theaters, but licenses the use of its trademarks along with the sale, lease, or contribution of its equipment.
Takeover Talk
The stock spiked from $26 to $32 back on March 24 on rumors that Sony (SNE) may be an interested buyer. Nothing happened, but the stock didn't lose much ground. Some say the stock could be worth more than $45 in a takeover.
Bullish Chart Pattern
The stock is currently trading at $35.87. I am long and am anticipating a breakout over the $36.20 level to maintain. If IMAX can stay above that level with volume, I am looking for high 30's/low 40's over the next month or so.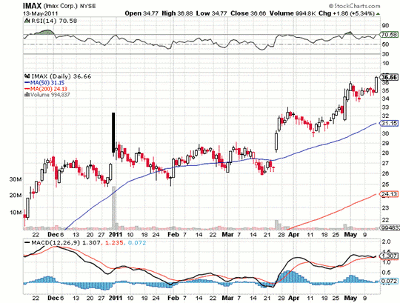 Click to Enlarge
By Joe Donohue
Joe Donohue is the co-founder and CEO of the long/short fund Desert Shores Capital LP. Donohue's financial blog can be found at UpsideTrader.com.