Staples Looks Good on Paper
05/25/2011 7:00 am EST
Focus: STOCKS
Poor recent earnings have driven shares of Staples, Inc. (SPLS) down by 15%, yet the company remains firmly profitable, creating a favorable risk/reward set-up for value-hungry investors.
Office supply firm Staples, Inc. (SPLS) surprised investors last Wednesday with weak first quarter results. As a result, management lowered its full-year expectations and investors lowered the stock price significantly.
At current levels, however, the risk/reward in terms of investment appeal has become much more interesting.
Here's the daily chart: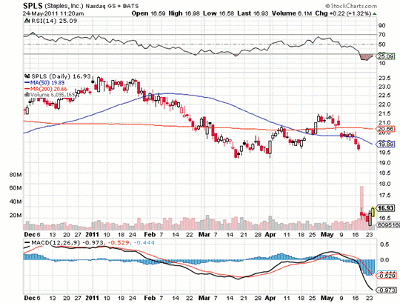 Click to Enlarge
First Quarter Recap
The company's sales grew a modest 2% to $6.2 billion from the year-ago quarter. Staples divides its results into three divisions, and each reported modest top-line growth during the quarter.
North American office supply delivery reported 2% growth to account for 40.3% of total quarterly sales, while North American retail, which consists of the well-known office superstores that compete with the likes of OfficeMax (OMX) and Office Depot (ODP), saw sales rise 1% to account for 37.1% of total sales. Comparable store sales fell 1% while Staples opened one new net store. International reported the strongest sales growth of 4%, though this was due to positive currency fluctuations.
Business unit operating income fell 8% to $383.7 million. Only North American retail was able to grow profits, and growth was modest at 0.5% and made up 46.2% of total profits.
North American delivery reported a 3.3% drop in profits to account for 51.3% of the total, while international profits plummeted 74.2% to make up the rest of total profit at 2.5%. Backing out corporate overhead, total company operating profit fell 3.9% to $348.3 million.
Higher interest income, lower interest expense, and lower income tax expense allowed net income to increase 5% to $198.3 million, while share buybacks boosted per-share earnings 7.7% to 28 cents per diluted share. This fell below analyst expectations, as did the sales growth.
Outlook
The weak first quarter caused management to lower its full-year outlook. It now expects sales growth in the low single digits and earnings between $1.35 and $1.45 per diluted share.
What Happened to Growth?
It has been a number of years now since Staples has posted any earnings growth. It acquired Dutch firm Corporate Express to beef up its international delivery capabilities and has spent some time integrating the business. It also had to deal with a severe global recession that saw its core small- and mid-sized business customers cut back on spending.
Bottom Line
The latest results call into question the international acquisition and whether retail rivals, including Wal-Mart (WMT) and Amazon.com (AMZN), are adversely impacting Staples' sales and profit levels.
Still, the company remains firmly profitable and expects to generate full-year free cash flow of $1 billion, or a similar level to its projected earnings level.
With the stock down as much as 15% following the earning miss, the risk/reward tradeoff has become much more compelling. Investors are still waiting for a return to consistent profit growth, but at a forward earnings multiple of less than 12, there is much more potential upside should management be able to right the ship.
By Ryan Fuhrmann of RationalAnalyst.com