How Elliott Wave Called Cocoa's Move
07/28/2011 8:00 am EST
Focus: COMMODITIES
In this real market example, see how Elliott Wave principles were used to accurately predict the early-year breakout in the cocoa futures market.
In his Monthly Futures Junctures newsletter, Jeffrey Kennedy scours the marketplace in search of the one market (or several) whose price chart screams "Look at me!" The number one cue: A clearly developing Elliott Wave pattern. And in that Monthly Futures Junctures newsletter (from January 2011), the "featured" market was cocoa. Here is the article: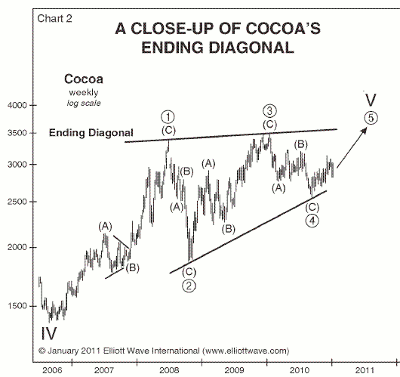 Click to Enlarge
"It is evident that cocoa has been tracing out an Ending Diagonal since the August 2006 low. In classical charting terminology as espoused by Edwards and Magee, the rising wedge formation represents a progressively weakening market. The Wave Principle, though, assigns more meaning to this type of pattern than mere weakening. An ending diagonal indicates an exhaustion of the larger movement. This is why it may form only in the fifth wave position of impulse waves and the wave C position of ABC formations. While classified as one of two types of motive waves—the other being an Impulse wave—a diagonal has a bit of a corrective nature to it. As you know, an impulse wave is a five-wave, non-overlapping price move in which wave one, three, and five subdivide into even smaller, five wave price moves. Moreover, each wave is assigned a numerical label of 1, 2, 3, 4, and 5. Furthermore, the three Cardinal Rules pertaining to impulse waves are:
Wave three can never be the shortest impulse wave of waves 1, 3, and 5
Wave two can never retrace more than 100% of wave one
Wave four may never end in the price territory of wave one
Albeit a motive wave, the impulse waves of a diagonal subdivide into three waves, not five. In addition, wave 4 of a diagonal is expected to terminate within the price territory of wave 1, thus the converging trendline that make this pattern's shape so identifiable. As previously discussed, the underlying message of a diagonal is one of exhaustion and termination. Moreover, when this pattern finishes, it introduces a sharp volatile move back to below the origin of the pattern.
Article Continues on Page 2
|pagebreak|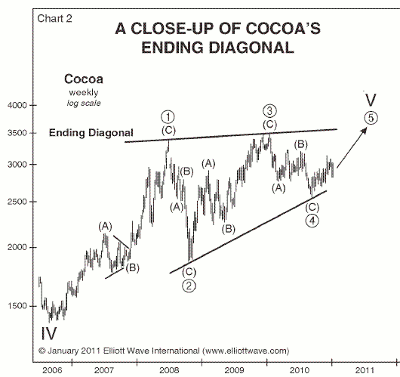 Click to Enlarge
In the chart above, observe that the September 2010 low is identified as wave 4 (circled) and prices are advancing in wave 5 (circled) to new highs beyond the December 2009 peak of 3510, basis the weekly continuation chart. This final three wave move to new highs will set the stage for a sizable [decline]."
From there, cocoa went on to fulfill Jeffrey's Elliott script. Prices completed the final leg of the ending diagonal in a powerful rally right into the cited target area in March.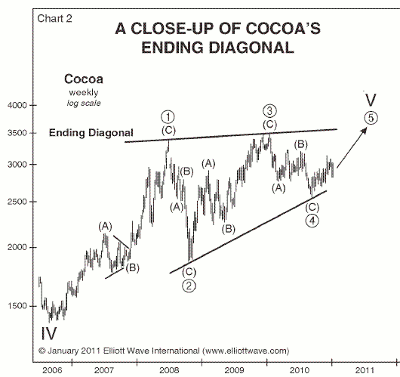 Click to Enlarge
First and foremost, Elliott wave analysis is about probabilities, not certainties. You and I both know that there isn't a market discipline that's 100% accurate 100% of the time. But Elliott Wave analysis is uniquely valuable in that it provides a more detailed projection of what's to come, including specific price levels of support and resistance so you can formulate your trading plan with more precision and more confidence.
By the Staff at ElliottWave.com