Cliffs (CLF) Is Falling Like a Rock
08/03/2011 7:00 am EST
Focus: STOCKS
A strong short-sell signal has been issued for Cliffs Natural Resources (CLF), and aggressive traders can try a quick, "in-and-out" approach, while others must be mindful of strong support nearby.
Shares of Cliffs Natural Resources (CLF) have been in the process of tracing out a very large and noticeable consolidation/trading range pattern since peaking in mid-February 2011 along with many other stocks, and the big question now is whether the recent swing lower will bottom soon, or if it is destined to break down below critical support in the $79-$80 price range.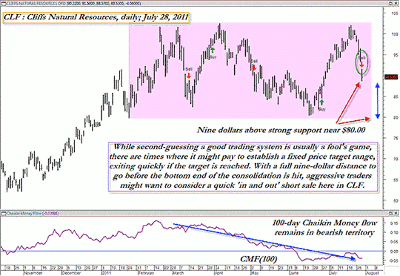 Click to Enlarge
That lower support level near $79 or $80 looks awfully solid. Traders going short now might want to use that area as a general price target to help guard against an unexpected (and violent) short-covering rally.
At the close of trading on Thursday, July 28, the Gil Raff MarketSpace Stock system expert in MetaStock 11 fired a sell-short signal (see green oval on Figure 1) on the CLR daily chart. With a full $9.00 to go before the lower end of the pink-shaded consolidation pattern is reached, this actually looks like a short signal worthy of consideration.
Here's a daily chart: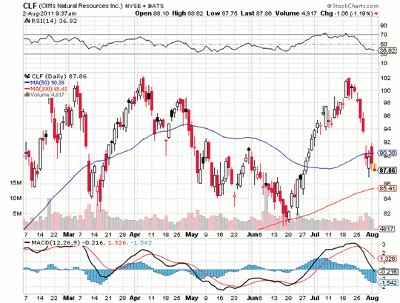 Click to Enlarge
The long-term Chaikin money flow (CMF)(100) is mired in the depths of bearish territory, suggesting that the most recent swing lower could be the start of a larger-scale decline. There could always be a market reversal soon, egged on by news of a budget deal (which is akin to shuffling the deck chairs on the Titanic!), so if you choose to go short this set-up, please be aware that virtually anything can happen in the financial markets, and it can happen at any time!
Instead of suggesting that traders buy a put here, how about just sitting still for a while to see how CLF acts if that $79-$80 price support zone is reached. Believe it or not, that area could be a great time to sell a near-term, out-of-the-money put, especially if the broad market also stages a major rebound around the same time.
So consider just waiting for $79-$80 to be reached before deciding to take action in shares of CLF, unless you are a real fan of mechanical trend-following systems and want to go all in on a short trade right now.
Whatever you do, just be sure to limit your account risk and use a logical and non-negotiable stop-loss order. You'll be glad you did, no matter how the trade eventually turns out.
By Donald Pendergast of Linear Trading Systems