"Whipping Boy" Stock May Be Bottoming
09/29/2011 9:00 am EST
Focus: STOCKS
Beaten-down NetFlix, Inc. (NFLX) had been showing signs of a potential upside move in recent days, and with considerable room to move higher, the risk in new long positions may be well justified.
I mentioned on Twitter a few days ago that NetFlix, Inc. (NFLX) may be ready for a dead-cat bounce worth trading. I did in fact end up taking it as a swing trade for a few reasons.
First, NFLX had what will likely be considered a capitulation day on Sept. 21, 2011. The stock then went on to set its first daily higher high on Sept. 23 since falling apart on Sept. 14. While I don't make it a habit of trying to time bottoms, NFLX was finally showing something after a brutal decline and moving ahead of the general markets.
Negative sentiment was still very extreme and all the ingredients for a short squeeze, dead-cat bounce were in place. Not only that, but the downside was at worst a few points with plenty of room to the upside on even just a dead-cat bounce.
Theoretically, NFLX could even come back towards the large gap it has above. Again, sometimes the possible reward justifies the risk…as long as a trader knows when to abort the idea.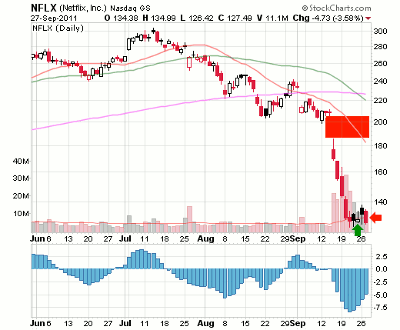 Click to Enlarge
NFLX did indeed gap higher on Monday on reports of new streaming deals, which put me at a decent profit. It even cleared its pre-market highs in the first few minutes of trading, which was a positive.
Everything still pointed to higher prices, so I did not entertain taking profits. However, NFLX was under distribution all day and has been unable to hold above the $133 level for the past few sessions. Selling was not even very subtle on the tape, underscoring the fact that institutions are still getting out of the stock.
I still didn't sell because I didn't want to ignore the positives I noticed on Friday, and it did end up higher. NFLX gapped higher again on Wednesday morning and once again failed to hold any of the gap. When the market started moving higher mid-morning, NFLX did not participate and instead turned lower later in the morning.
A gap higher plus positive news plus a strong market should equal higher prices.
I didn't bother sticking around, especially in a market I don't trust. I see people (i.e. Cramer) getting trashed all the time for flip-flopping on a stock, but being flexible is a huge part of being a trader.
NFLX looked like it was going higher, but the tape revealed that there is still too much selling in it, so I got out. I still believe it will squeeze higher soon, but I have faith that my trading skills will let me know when the next opportunity presents itself.
I have no problem flip-flopping on a stock if the markets give me more information. I did this several times on Molycorp, Inc. (MCP) over the past few weeks with no shame. There is often a very fine line between which direction a stock will take, and false moves are a real part of the current environment.
It makes no sense to stick around when the tape is not confirming my thesis. If you got caught in this type of afternoon reversal, honestly assess the stock you are in and decide where you draw the line.
By Joey Fundora of the Downtown Trader Blog