Make a Quick Buck on Yahoo!
10/11/2011 9:00 am EST
Focus: STOCKS
Renewed takeover talk and a bullish chart pattern are only a couple reasons to consider going long on Yahoo (YHOO), says one trader, who also recommends a sensible stop level.
Yahoo, Inc. (YHOO) has become the stock that everyone loves to hate, but I am going long on this one.
Yahoo, together with its consolidated subsidiaries, operates as a digital media company that delivers personalized digital content and experiences across devices and worldwide.
The company's communications and communities offerings provide a range of communication and social services to users and small businesses across various devices and through its broadband Internet access partners. Its search and marketplace offerings provide answers to users' information needs by delivering meaningful search, local, and listings experiences on the search results page and across Yahoo.
The company has had a string of disappointing earnings reports, poor management, and general dissension in the clubhouse. Management changes are routine, and we all remember the "no thanks" that YHOO gave to Microsoft back in the day when it offered more than $30 per share in a buyout. There are a few companies out there that seem to perpetually disappoint. YHOO is probably in the top five on that list.
So why am I long YHOO now? A few reasons. One is the chart, and the other is that the takeout vultures may be starting to circle the wagon, so things may be afoot.
Right now, YHOO is waiting for guidance from US tax authorities on a structure for a deal that would allow the company to cash in on the 35% stake in their Japanese business.
Due to discouraging talks with the Internal Revenue Service (IRS), Yahoo is no longer likely to spin off Yahoo Japan, and instead is considering being bought out by minority owner Softbank or the company itself. Due to some discouraging talks with the IRS, though, this now may not happen and YHOO may be considering a buyout by Softbank.
Other rumored suitors include Microsoft (MSFT) or Silver Lake partners. Takeout valuations being bandied about range anywhere from $18 to $22. The stock currently trades around $16.
The Bull Flag Chart Pattern
The stock seems to be building a high handle on the daily chart. It has now closed above 200-day moving average (MA) resistance.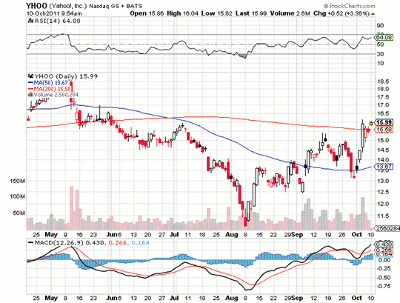 Click to Enlarge
A bullish flag seems to be developing as well. Stops around the $14 level make sense.
By Joe Donohue of Upside Trader