Buffett Stock in a Breakout Zone
10/13/2011 9:00 am EST
Focus: STOCKS
Warren Buffett clearly expressed his belief that Berkshire Hathaway (BRK-B) was undervalued, and with shares now on the verge of breaking out, an attractive long opportunity is now being presented.
Warren Buffett has been considered the most successful investor in the world for years. The Oracle of Omaha is known for deals that investors can only dream of getting. The Goldman Sachs (GS) deal, General Electric (GE) deal, and most Bank of America (BAC) deals are good examples.
Buffett's Berkshire Hathaway has two classes of stock, the A shares (BRK-A), which trade at $110,000, and the B shares (BRK-B), which are trading near $73. The B shares were introduced to the market a few years ago to allow smaller investors an opportunity to invest alongside Buffett.
Price of the Stock
On Sept. 26, the legendary investor announced a stock buyback plan for Berkshire Hathaway stock, the first ever for the company.
Buffett believes Berkshire is trading below its intrinsic value. He said he likes buying assets that are worth $1.00 at 90 cents, which is what he believes he is doing by buying back his stock here at these levels. Time will tell if he his right or wrong about the intrinsic value of the stock.
See related: Buffett Buyback Is No Gimme
What is important to us as investors and traders is the price of stock and if it is moving in an ascending fashion from left to right on the chart.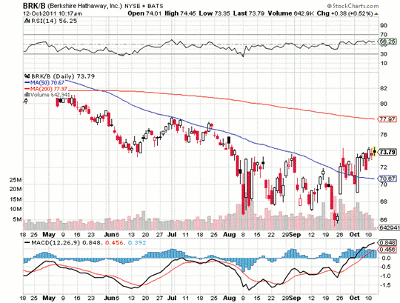 Click to Enlarge
Background
The stock peaked back in February and proceeded to form a pattern of lower highs and lower lows until August. Since then, the stock has traded sideways with the sellers and buyers battling while the stock traded roughly in a $6.50 range (between $67 and $73.50).
In the most recent push lower, the buyers stepped up a little earlier than usual and supported the stock at the $69 level.
The Opportunity
Here is the bottom line: the stock is right at a critical resistance level that has been tested a couple times in the past two months—around $73 even. The breakout level is anywhere above $73.75 as long as the trend continues.
I would be a buyer of the stock on the breakout with $72 as my stop. My target is $79-$80 ($67-$73.50 = $6.50 + 73.50 = $80).
As a trader or investor, Berkshire gives you the opportunity to be involved in institutional-type deals at the retail level.
By Frank Zorrilla, founder and chief investment officer, Zor Capital LLC