Intraday Set-up Paid Off Twice This Week
02/17/2012 11:32 am EST
Focus: STRATEGIES
Combining proven indicators on multiple time frames can provide helpful confirmation and more confidence during execution, writes Corey Rosenbloom, reviewing a pair of recent winning trades.
I wanted to highlight one of my favorite intraday trading "combo" set-ups that occurred twice on February 13. It's a retracement plus dual divergence set-up that develops on all time frames.
Let's take a quick moment to study this set-up as it appeared on the intraday frame and how we can apply it to other situations.
First, here's the SPDR S&P 500 (SPY) five-minute intraday chart from Feb. 13, 2012: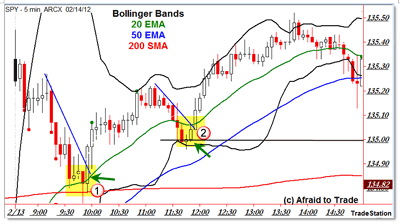 Click to Enlarge
In trending markets, we want to look for retracement or pullback entries to give us low-risk entries into a developing trend.
While you can simply trade a classic pullback to support—like a bull flag pattern—you can enhance your execution and trade management by dropping to a lower time frame to see what's happening on the lower-time-frame chart.
For example, trade #1 pulled back to the rising 20-period exponential moving average (EMA) and 200-period simple moving average (SMA) after a strong upward opening and initial retracement.
Trade #2 similarly pulled back in bull flag style towards the lower Bollinger band and $135 round-number support.
Again, both were classic retracement trade entries on the intraday (five minute) frame and both trades were successful in the context of the bullish trend day that ultimately developed.
However, let's take it a step further and look specifically at the one-minute lower-time-frame chart that developed in real time with both of these classic higher-time-frame retracement trades.
Here's the 10:00 am CST trade, as seen on the one-minute chart: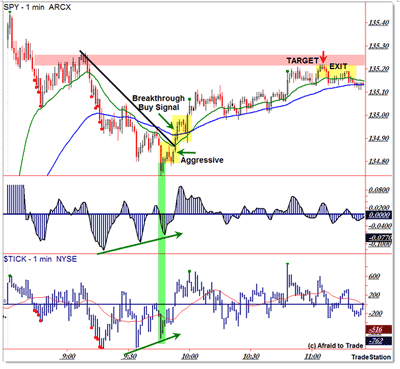 Click to Enlarge
The lower time frames give us a clearer or more detailed picture of what we're seeing on the higher-frame charts.
In this case, in the context of a five-minute chart pullback to support, the one-minute chart developed a "triple swing" positive dual momentum and TICK (internal) divergence.
See related: How to Use the TICK Indicator Intraday
We're seeing the 3/10 MACD Momentum Oscillator with the NYSE TICK market internal; the divergence developed when price pushed to new session lows while both indicators formed higher lows.
Divergences often precede reversals in price—as was the case here—and the trick is to put the pieces together.
To combine the two charts, we have:
1) A five-minute chart pullback/retracement to EMA support
2) A one-minute multi-swing positive dual momentum and TICK divergence
For traders who need a little more information, or "proof," before putting on a trade, combining time frames (charts) like this may be a very good solution.
The official breakthrough buy signal triggers when price breaks through the falling trend line or EMAs on the lower frame.
Keep in mind that this logic works not just for the five-minute and one-minute combo, but for any type of higher-plus-lower-time-frame set-up (though market internals tend to be clearer on intraday frames).
(This is the type of "creating trades" information I'll be discussing at my upcoming LIVE Webcast session on Monday, February 20 at 8:00 am EST at the Traders Expo New York. Register to watch free here.)
The retracement plus dual divergence set-up above is a good example of this type of trading tactic.
In general, most pro-trend retracement trades set a minimum target of the prior swing high, or ideally a spot just beyond the prior high.
The stop often goes under the expected swing low, which would be under $134.80, in this example.
Depending on your risk-tolerance, the aggressive entry occurs into the expected support line on the higher frame, while the conservative entry occurs after price has bounced up off the expected support line, often on a break of a falling trend line.
Let's see the picture on trade #2's similar support retracement at 12:00pm CST: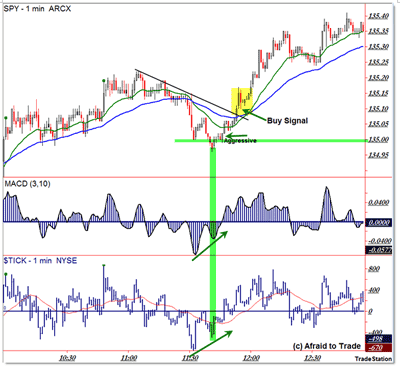 Click to Enlarge
We can't always know in advance how well a trade will work; Trade #2 outperformed the first retracement set-up.
The one-minute chart at 11:45 am CST reveals a dual positive divergence (momentum and TICK) as price retraced on the five-minute chart to the likely support of the $135 round-number area (1,350 in the S&P 500) and five-minute lower Bollinger band.
Again, very aggressive traders can enter a buy order as price tests (trades) near the $135 area, while conservative traders can enter a trade once price "proves itself" by rallying off the expected support price and then breaks above a falling trend line or one-minute EMA structure.
This time, price traded well above the prior swing high at $135.25—a minimum target—and on to peak at $135.50 before reversing into the close.
While I'm using SPY as a lesson example, this same logic applies to the @ES futures, as seen in the chart below: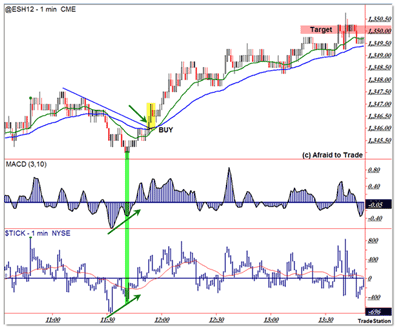 Click to Enlarge
If you're thinking "The profit targets are so low in this example," then it's due to the small time frames of the intraday five-minute and one-minute charts.
If you see this same higher time frame plus lower time frame divergence set-up on a weekly and daily chart of a stock or ETF, then of course the profit target (and stop loss) would be much larger.
The logic would be the same no matter what stock or market you trade; I'm just showing the active intraday market for this particular example.
To sum up the quick lesson, when you're looking to trade a potential retracement set-up to a possible support area on a higher time frame, it can be helpful to take a moment to drop to a lower timeframe to see what the lower chart reveals.
If the lower time frame shows positive momentum, internal, or other indicator divergences, then you can have additional confidence in the trade.
Plus, you'll be able to fine-tune your precise entry (often on a trend line or EMA breakthrough on the lower frame) and manage your trade more efficiently.
There's no guarantee that any trade will work perfectly, but in general, the more you put in your favor (without being overwhelmed or paralyzed by analysis), the better you'll be.
This type of retracement plus divergence logic may be something you can add to your developing trading strategies.
By Corey Rosenbloom, CMT, trader and blogger at AfraidToTrade.com
See Corey in person at the upcoming New York Traders Expo.