Wood Stocks That Are a Cut Above
04/30/2012 12:40 pm EST
Focus: STOCKS
Joel Anderson, contributor to Equities.com, highlights several leading wood stocks and two specialized ETFs that allow investors to access the US lumber and timber industries.
Finally, the one day a year that we get to celebrate…wood. Well, trees, to be accurate. Friday was Arbor Day, the day on which people are meant to gather to care for and celebrate trees. The holiday dates back to April 10, 1872, when an estimated one million trees were planted. The holiday originated in Nebraska City, NE, which might seem odd to anyone who has driven through Nebraska, as there doesn't appear to be anything growing there aside from corn.
However, what better way to celebrate Arbor Day than to explore those companies that make their money from trees. Granted, most of these companies either profit from cutting down trees or making things out of dead trees, which would, in fact, make them wildly inappropriate for this day, but let's not split hairs!
Lumber Stocks
Lumber is not the industry that it used to be. There was once a time when lumberjacks with hand tools clear cut the majority of American forests, providing the lumber for a growing nation to continue expanding.
Today, better forestry and a desire to preserve natural resources for future generations have fundamentally changed the approach to logging undertaken by American timber companies. That does not mean, though, that America suddenly lost its demand for lumber. As such, debates over safe forestry practices and sustainability have become a major part of the industry.
There remain a number of companies that are primarily dedicated to harvesting timber for commercial uses. The Weyerhaeuser Company (WY) operates out of Los Angeles, CA and has a market cap of over $11 billion. Formerly the Weyerhaeuser Timber Company, Weyerhaeuser was founded in 1900 by Frederick Weyerhaeuser and 15 partners, and today, it operates on four continents.
Here is a recent daily chart: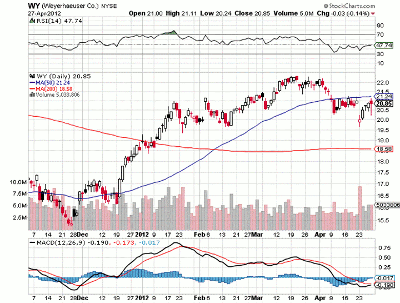 Click to Enlarge
Today, it's primarily a pulp and paper company, but it remains the second-largest owner of timberland in America behind Plum Creek Timber Co. (PCL), which is also the largest private landowner in the country. Other major timber companies include the Potlatch Corporation (PCH) and Rayonier (RYN).
If you're looking to invest in the lumber industry without getting to specific, though, there are at least two major ETFs to that effect. The iShares S&P Global Timber & Forestry Index Fund (WOOD) and the Guggenheim Timber Index (CUT).
By Joel Anderson, contributor, Equities.com