The Apple (AAPL) Chart Few Have Seen
05/08/2012 9:45 am EST
Focus: STOCKS
This point and figure chart of Apple (AAPL) shows a decidedly bearish outlook for the tech titan and market leader, with downside targets in excess of 10% below current levels, writes John Nyaradi.
Last week was a bad one for global equities as troubling news jumped out like a boogeyman from a dark closet in the fun house of nightmares that global financial markets have become. Bears are on the prowl, Europe burns, and Apple, Inc. (AAPL), the darling of hedge funds and individual traders alike, could sink the world.
However, great danger always brings the concurrent potential for great opportunity.
On my radar now:
In the below point-and-figure chart of AAPL, we can see how the S&P 500's largest company has shed approximately 12% over the last month. However, this recent decline still leaves the storied stock more than 25% above its lows in late January.
A closer look indicates that the stock has broken its 50-day moving average, indicating short-term weakness, and also a MACD sell signal as short-term momentum weakens.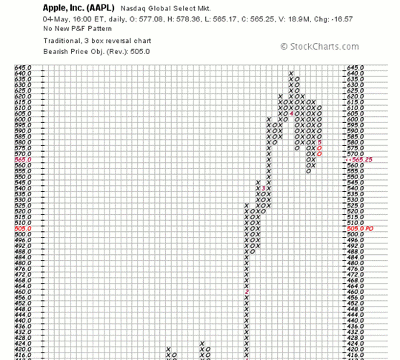 Click to Enlarge
The clarity of point and figure charting paints an even more sobering picture as we see that Apple (AAPL) has generated a sell signal with a downside price objective of $505, some 10% below current levels.
See related: How to Trade Point and Figure Charts
Of course, AAPL is only one stock...or is it? Since the company makes up approximately 10% of the Nasdaq index and 4% of S&P 500 earnings and is a major holding of many institutions and hedge funds, it certainly bears closer watching than the average stock quote. By itself, Apple's sales exceed the GDP of more than 160 nations, so the company's earnings have an excessive amount of influence on world stock prices.
A sell signal in AAPL is a significant warning sign, not only for the Nasdaq, but for the S&P 500, as well.
By John Nyaradi of Wall Street Sector Selector