Transport Stock That's Getting on a Roll
06/19/2012 10:58 am EST
Focus: STOCKS
A potential breakout from a year-long range could send a popular transport stock solidly higher, writes Greg Harmon of Dragonfly Capital, identifying seven stock and option trade ideas designed to catch the upside.
Union Pacific (UNP) has been trading in a range between $105 and $115 since the beginning of the year. Now at the top of that range, it has a Relative Strength Index (RSI) that is making a new higher high and rising, as well as a Moving Average Convergence Divergence (MACD) indicator that is positive and climbing.
Both those indicator readings support more upside potential. The stock printed a doji candle on Friday, however, which is a sign of indecision, and this occurred on stronger relative volume. The doji can resolve either way, so it is not so surprising to see it appear at previous resistance.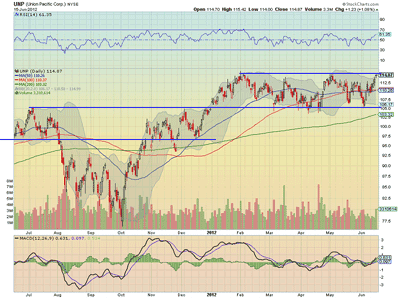 Click to Enlarge
A move over $115 has a measured move target at $125. Support is found lower at $113 and $109.80, followed by $107.10 and $105, before breaking the channel. Below the channel, support shows up at $101.60 and $96.70.
Here are seven ideas using the stock and/or options to capitalize on this potential move:
Trade Idea 1: Enter long on a move above $115 with a $2 trailing stop. Take off one-third of the position at $120 and another third at $125
Trade Idea 2: Sell the July 105 puts on the same trigger. These were bid at $1.15 recently. Collect premium and a possible entry at a price of $105
Trade Idea 3: Buy the July 115 calls on a move above $115 with a $2 trailing stop on the stock price. These were offered at $3.75 recently. Use the targets for the stock trade to take profits, which are the same as the stock trade, but maximum risk is the premium paid and there is more leverage
Trade Idea 4: Buy the July 115/125 call spread on a move above $115. These were offered at $3.33 recently. You can leg into this trade, buying the 115 calls first and then spreading them later at the 120 profit target against the 125 calls. This lowers the cost from trade 3, but also caps the upside at a $10 payout. Reward:risk ratio is an attractive 3:1
Trade Idea 5: Buy the July 115/125 call spread risk reversal, selling the July 105 puts, which were offered at $2.18 recently. This further reduces the cost of the initial call trade to create a reward:risk ratio of 4.6:1, but it opens the possibility of owning the stock with a $107.18 basis on a close under $105 at expiry
Trade Idea 6: Buy the July 115/125 call spread, selling the July 105/97.50 put spreads. These were offered for $2.73 recently. This is the same as trade 5, but it reduces downside risk to $7.50
Trade Idea 7: Buy the August 115/125 call spreads, selling the August 100 puts. This trade was offered for $2.46 recently. It is the same as trade 5, but gives more time for the trade to play out. The reward:risk ratio adjusts slightly to 4:1 also.
By Greg Harmon of Dragonfly Capital