Don't Always Trust the Silver-Gold Ratio
08/23/2012 8:30 am EST
Focus: COMMODITIES
Greg Harmon of Dragonfly Capital takes a look back at how gold and silver have had periods of high and low breakout correlation.
There has been much talk about gold, both through the futures contract and the SPDR Gold Trust Shares ETF (GLD), and silver futures and the iShares Silver Trust ETF (SLV) in my stream this week.
Several of the comments came to the view that if gold breaks out higher, then silver will follow. It turns out that is not always the case.
In fact, from the ratio chart below, the price of silver more than tripled in terms of gold from 2008 to 2011 before falling back. Now falling back to retest the 0.017 level in a descending triangle, it is set up for gold to accelerate away from silver on a breakdown.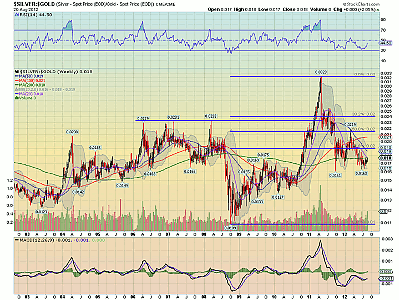 Click to Enlarge
But the Relative Strength Index (RSI) is turning back higher with a Moving Average Convergence Divergence indicator (MACD) that is crossing positive, another bullish signal. Looking left sees that this ratio was significant in mid-2009 and the back half of 2007 as well. A hold here and movement back higher will likely re-challenge 0.02.
But maybe more interesting is that the ratio of silver to gold is often viewed as a guide for the direction of the S&P 500. The chart below shows the S&P in the solid black line against the silver to gold ratio.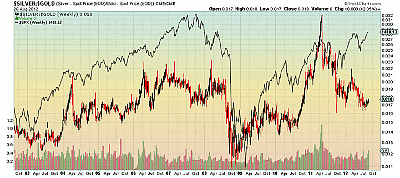 Click to Enlarge
We last looked at this back on March 27, 2012 in The Curious Case of Silver, Gold, and the S&P 500. There is quite a strong correlation. And if the break higher in the S&P 500 is believed, then the bottom is in for the ratio. It does seem to be moving higher now with Relative Strength for silver over gold.
If you use gold charts to predict silver movement, you need to know the stereotype isn't always the truth.
Greg Harmon can be found at Dragonfly Capital.