3 ETFs That May Benefit From iPhone 5
09/14/2012 9:00 am EST
Focus: ETFs
The staff at Benzinga.com highlight three not-so-obvious ETFs that may benefit from the launch of the iPhone 5.
Apple's (AAPL) iPhone 5 debuted this week. While Apple is an American company, it is also a global powerhouse. California-based Apple posted fiscal third-quarter revenue of $35 billion, with global sales representing 62% of that figure.
In fiscal 2011, the iPhone accounted for 40% of Apple's total revenue, making the smartphone the company's most important revenue driver. The iPhone is also Apple's most important way of bolstering its presence in foreign markets and adding exposure to new international frontiers.
All eyes will be on Apple's stock and some of the obvious technology-heavy ETFs such as the PowerShares QQQ (QQQ) and the iShares Dow Jones US Technology Fund (IYW) following the unveiling of the iPhone 5.
But we've found a few international ETFs you may not have considered that will also benefit from the Apple buzz and rising stock price. These ETFs also offer a way of gaining exposure to Apple's long-term international growth plans.
1. iShares MSCI Mexico Investable Market Index Fund (EWW)
The iShares MSCI Mexico Investable Market Index Fund makes the list not just because Mexico is one of the smartphone markets in the world, but because of the ETF's 22.4% allocation to America Movil (AMX). Here is a recent daily chart: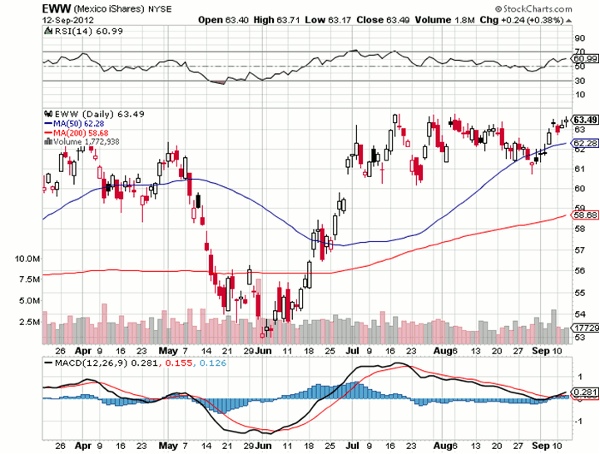 Click to Enlarge
America Movil is Latin America's dominant wireless carrier, and smartphone sales and usage are accelerating throughout the region. Smartphone sales accounted for 20% of mobile handset sales in Latin America last year, and the number is expected to reach 46% by 2016.
The iPhone is already available in 17 Central and South American nations. America Movil had 246 million subscribers in 18 countries in the second quarter, making the company the prime beneficiary of Apple's future Latin American growth.
Next: EGShares Telecom GEMS ETF
|pagebreak|
2. EGShares Telecom GEMS ETF (TGEM)
Be very careful with this one. The EGShares Telecom GEMS ETF is not going to win any volume competitions. Average daily turnover of about 860 shares is not going to wow anyone, nor will the fact that the ETF has not traded in almost a week (as of this writing).
Perhaps the new iPhone will change that. Maybe it will not. Here is a recent daily chart: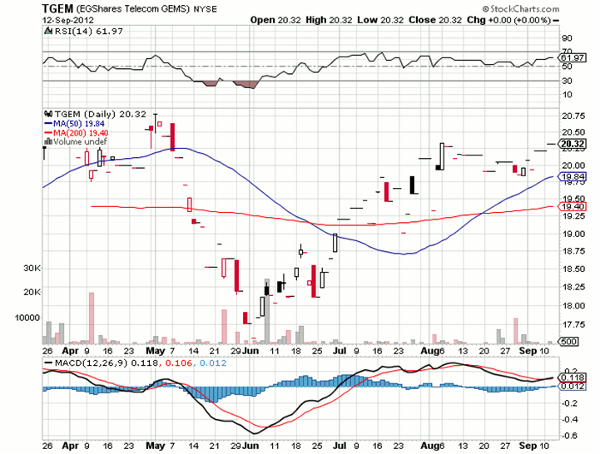 Click to Enlarge
Fact is, TGEM's country composition shows the ETF is intimately levered to the emerging-market smartphone boom. Three of the six fastest-growing iOS and Android markets are China, Brazil, and Mexico. That trio accounts for 36.6% of TGEM's country weight.
China Mobile (CHL), the company that HSBC said represents a third of the addressable Asian iPhone market, is 10.3% of TGEM's weight. America Movil is another 9.5%.
3. iShares FTSE China (HK Listed) Index Fund (FCHI)
The iShares FTSE China (HK Listed) Index Fund may appear to be another run-of-the-mill China large-cap ETF, but this fund has utility as an iPhone play.
China Telecom (CHA) and China Unicom (CHU) already support the iPhone 4S, and the latter is expected to be selling the new iPhone by the end of this year. Those two stocks combine for 4% of FCHI's weight. Here is a recent daily chart: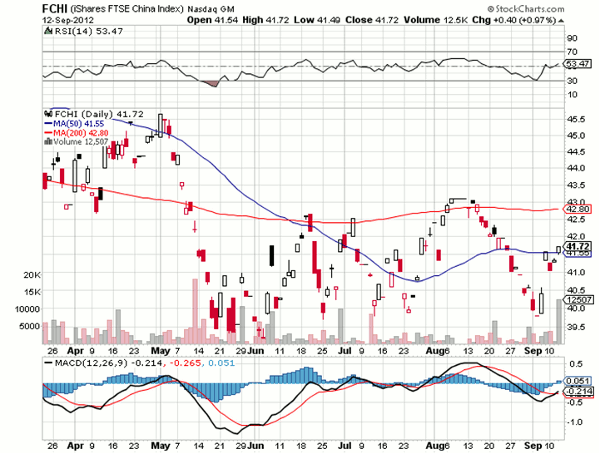 Click to Enlarge
The big deal for Apple (and investors) will be if the new iPhone's LTE technology is compatible with China Mobile's network. Technology issues have prevented Apple and China Mobile from partnering to this point, and a deal with China Mobile could mean big things for Apple. Literally.
China Mobile has 655 million subscribers, triple the number of AT&T (T) and Verizon (VZ) combined, according to Fortune.
This article was written by the staff at Benzinga.com.