2 Stocks Nearing Highs That Shouldn't Be
09/28/2012 8:00 am EST
Focus: STOCKS
Greg Harmon of Dragonfly Capital highlights two defense stocks that seem to be defying logic.
Over the last few weeks Intrade.com has seen the chance for an Obama win in November run up for the mid 50′s to 75%. So with one of his platforms cuts in defense spending, it seems odd that two defense stocks look so attractive. Lockheed Martin (LMT), is trading at near 4 year highs and Raytheon (RTN), near all time highs.
Let's take a look.
Lockheed Martin (LMT), has been consolidating in a box between 90.50 and 93.50 since mid August. Recently it touched the 50 day Simple Moving Average (SMA) as support, and the Relative Strength Index (RSI) has held positive ad is rising again.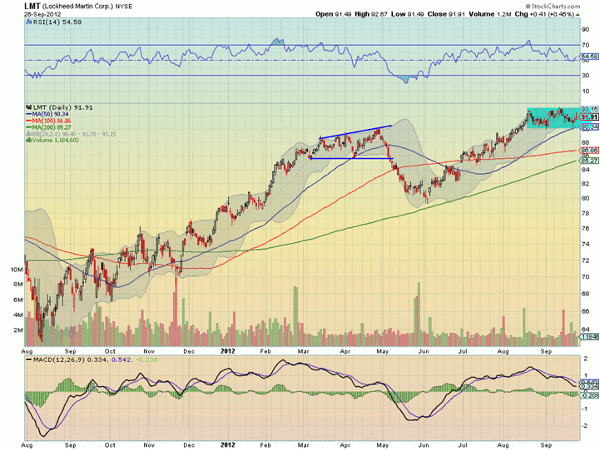 Click to Enlarge
The kicker is the Moving Average Convergence Divergence indicator (MACD) is negative but is starting to improve. Sings are pointing up. it may stop at the top of the box again but a move over 93.50 has a Measured Move higher to 100 and the 3-box reversal Point and Figure chart (PnF) has a price objective much higher at 120. No fear of budget cuts here.
Next: Now let's look at Raytheon...
|pagebreak|
The weekly chart for Raytheon (RTN), shows it as approaching the top of a "W" pattern at the all time highs from 2008.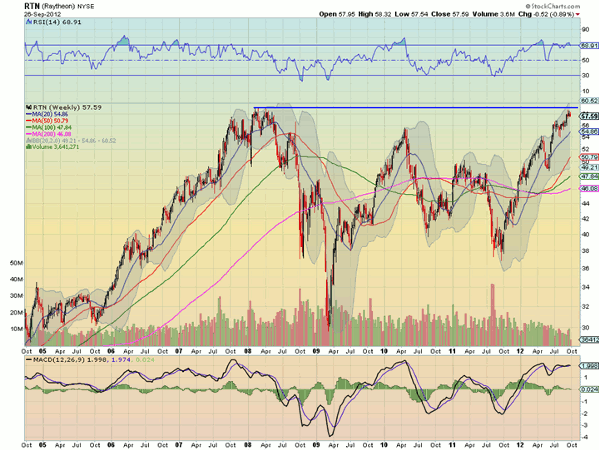 Click to Enlarge
A break above the top near 59 carries a massive target on continuation to 96. The RSI is strong and bullish and the MACD is holding positive. The PnF shows it has met its price objective at 59. But if it prints a 60 handle that price objective will change to the low 90s on a triple top break out. I guess you know the trigger know to get long huh?
So what makes these two defense related stocks so attractive in the face of budget cuts? Could it be their dividends at 4.4% for Lockheed Martin and 3.5% for Raytheon? If that is the case rotation could be setting up again into dividend names.
Greg Harmon can be found at Dragonfly Capital.