Will Crude Oil Bottom in Retracement Zone?
10/11/2012 8:00 am EST
Focus: COMMODITIES
Oil prices have remained under pressure after the International Monetary Fund cut its 2012 and 2013 global growth forecasts. James Hyerczyk of PricePatternTime.com outlines some possible outcomes.
The lower-top, lower-bottom formation on the Weekly December Crude Oil chart defines clearly the downtrend. However, the market appears to be trying to establish support inside of a key retracement zone. Based on the $79.12 to $101.01 range, a 50% to 61.8% retracement zone has been created at $90.07 to $87.48. Last week's low at $88.09 stopped inside of this zone, indicating that perhaps value-based investors were bidding.
Besides the main range, a pair of Gann angles is also playing a significant part in the structure of the chart pattern. The downtrending Gann angle at $93.01 has provided direction and guidance for the market since the top at $101.01 was created four weeks ago. On the downside, an uptrending Gann angle at $86.62 is a potential support point.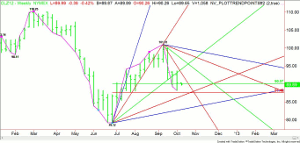 Click to Enlarge
One reason why a bottom is important at this time is because it will mean that a secondary higher-bottom has formed. This is usually a sign that buyers are beginning to take control of the market. The first rally following an extreme low is usually produced by short-covering. The second time down, buyers usually step in because they have a reference point to the left. This price is often referred to as the "lean" or the exit.
If December Crude Oil is bottoming then it is likely to form inside the retracement zone. It would be nice if a support base forms because often the height of the market is determined by the length of the base. A support base will also represent true buying whereas a spike bottom will likely mean that shorts are covering.
NEXT PAGE: Trading Crude Oil in Multiple Time Frames |pagebreak|
Fundamentally, crude oil price fell sharply last week after the Energy Department reported Oct. 3 that US crude output rose to 6.52 million barrels a day the previous week. This was the highest production figure since December 1986. Unless production slows or demand picks up, the retracement zone is not likely to stop the slide in prices.
So far the implementation of another round of stimulus by the Federal Reserve in September hasn't worked through the system. It may not be able to trigger a turnaround in the economy either unless coupled with renewed strength in Europe. The combination of these two factors should theoretically lead to firmer prices, but it looks like it is not going to happen over the near-term.
The wildcard is the Middle East. The accelerating conflict between Turkey and Syria could lead to a disruption in supply, which could underpin prices or lead to the start of a rally. There is also the possibility of a military strike by Israel on Iran. Both of these scenarios could send crude oil prices soaring because of short-covering and speculation.
It's hard for short-traders to press the market inside the retracement zone if there is a bid holding up prices. However, if short traders, backed by growing supply, continue to pound the buyers then the zone will fail and lower prices will prevail. The formation of a support base will be a strong sign that buyers are taking control, but unless supply begins to trend lower or there is a surprise event, crude oil may just sit in a range.
James Hyerczyk can be found at PricePatternTime.com.