7 Red Flags for 7 Stocks
10/24/2012 8:00 am EST
Focus: STOCKS
In the thick of earnings season, the staff at Briefing.com shares seven stocks with significant technical action in their charts recently.
In this report, we highlight a handful of stocks with some significant technical action as of late. Earnings season is upon us, so it is not uncommon to start to see the "turnover" among our Top 50 stocks increase as prices react strongly or negatively to their results. The best we can do as traders is recognize those rotations in or out of leading names and watch for new support and resistance levels to be established for low-risk trading opportunities.
Remember that this list consists of high-ranked relative strength and fundamental leaders. Failure for them to "behave" bullish, especially along key support, moving averages and trendlines, warrants caution.
Chart Analysis
GOOG - Earnings can "make or break" a stock's trends and performance, so it is crucial to know the reporting date of a stock you may have an interest in. For now, GOOG's chart is "broken" with its aggressive plunge below the 50-day ma's. Unless you're day trading it, one is better off avoiding it until some sort of support and resistance levels are established in due time.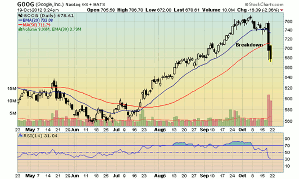 Click to Enlarge
ALXN - This long-standing member of our Focus List throws up a "red flag" on Friday's aggressive break of its rising 50-day ma and multi-month uptrend line. Earnings are scheduled for October 24, so the burden is on buyers to recoup recent loss ground.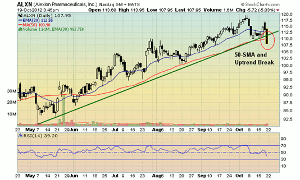 Click to Enlarge
CELG - Another biotech that warrants caution with a distribution day that breaks a multi-month uptrend line. The 50-day moving averages are in play, but note the company is scheduled to report earnings on Oct 25.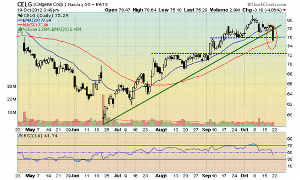 Click to Enlarge
BIIB - Leading biotech slipped off our Focus List last week after a nasty high volume reversal of its rally above the 50-day ma's. Uptrends and key moving averages broken, so burden is on buyers going forward. For what it's worth, earnings are scheduled for Oct 25.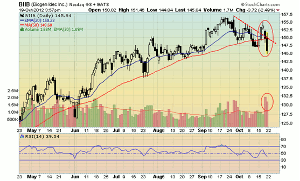 Click to Enlarge
NEXT PAGE: Three more charts to watch
|pagebreak|
LULU - Aggressive breakdown below 6-week support along the 72-area on "cautious analyst comments" Friday. Price managed to close below its rising 50-day ma, which is a "red flag" shifting the burden of proof on buyers to get this stock back into a more constructive pattern. Earnings aren't until November.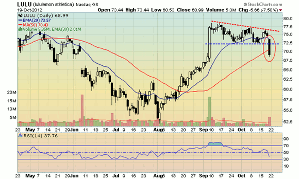 Click to Enlarge
SWI - Software company slides off our Focus List last week and rightfully so as it has been struggling to maintain its relative strength above the 50-day moving averages for the last 4 weeks. Earnings are scheduled for Oct 25, so that late-July bullish gap along the May peak looks like a "must hold" support for buyers.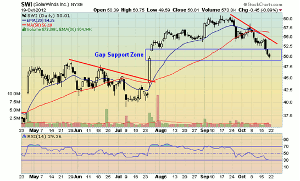 Click to Enlarge
FOSL - This retailer makes it back onto our Focus List after 6 months of stabilizing its huge May gap down. The last 10 weeks have been more constructive with range development between the 80/90's. One to keep on the radar for a potential breakout attempt over 95 resistance.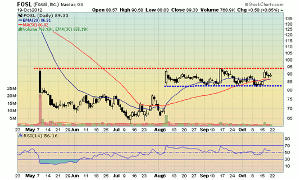 Click to Enlarge
Liquid Momentum Rankings
With equity markets always in motion and leadership rotating from one group to another, this list is designed to help active day and swing traders stay on top of the highest-quality trading names. It is generated from a proprietary algorithm that places heavy emphasis on superior Relative Strength versus the All Stocks universe, high Average True Range (ATR) values, and high Average Daily Volume, among other data points. An updated list is published each Monday, along with charts and commentary throughout the week highlighting the most compelling set-ups and patterns.

Click to Enlarge
Liquid Momentum is Briefing.com's proprietary Focus List for the 50 most liquid, high relative strength stocks in the market that are ideal for day and swing trading candidates.
By the Staff at Briefing.com