Gold: Get Ready for the Next Move
11/05/2012 8:00 am EST
Focus: COMMODITIES
Gold slid to a two-month low of $1,690 an ounce after Friday's data showed better-than-expected non-farm payroll numbers, but the staff at Profitimes are still optimistic, based on what they see in the charts.
I have been silent about gold for quite some time now. The reason for that is that it's no use to talk about daily movements in the price of gold, but rather look at the longer term picture. Now we have got to a point where I think it's time to have another look at gold.
Below is the monthly chart of gold since the start of this bull market. The Bollinger Bands have always played an important role for me to determine whether the market will move or not.
Today, we can see that the Bollinger Bands are narrowing on a monthly basis. Bollinger Bands reflect volatility, and since gold prices haven't moved up nor down a lot since the highs in August 2011 (despite the daily ups and downs), volatility has been low, and therefore, Bollinger Bands have been narrowing to a point where we are about to see the start of a next major move.
As we can also see in the chart below, is that six out of seven times when gold hit the middle Bollinger (blue dotted line), this was an extremely good entry point (green arrows). Only one time (in 2008), price dipped below this middle Bollinger, but soon reversed course.
I have also placed some circles on the chart, on times when we were in a similar situation as we are in today, namely tight Bollinger Bands. All three out of three previous times when Bollingers narrowed, the gold price moved up significantly.
In 2005, gold prices rose 77% in just 11 months. In 2007, gold rose 61.5% in just seven months, and in 2009 gold rose 41% in just seven months. If history is any guide, gold could reach $2,380 (+40%) by next summer.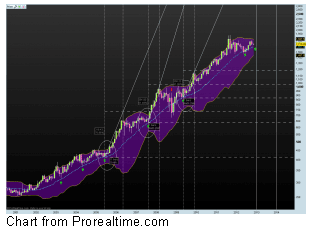 The only question remaining is if the next big move in gold would be up or down, but for the time being, I am quite bullish on gold, as long as price does not close below the middle Bollinger on a monthly basis.
By the staff at ProfitTimes