Watch Out! Tough Times Ahead
11/12/2012 8:00 am EST
Focus: FUTURES
As 2012 is quickly coming to a close, traders have started assessing year-end results and plan ahead for 2013. John Booth, contributor, InsideFutures.com, shares some of his analysis.
What a year! 2012 was a historic, extremely volatile period with high margin requirements, allowing only those with deep pockets to participate. As we approach year-end, let's take a look at some of the markets and how to be positioned at this time.
Any trading idea I put forth assumes the use of risk management techniques as a strict and consistent discipline.
Let's begin with our old friend silver. Just look at some of the daily ranges; February 29—$19,400 from high to low—while keeping the uptrend intact.
During the year, many of the daily corrections and reactions ranged from $5,000 to $10,000 causing margin deposits to be raised drastically. Even today, the initial margin is $18,900.00. Some of my silver traders switched to options as a means of controlling risk.
December 12 Silver Futures - Daily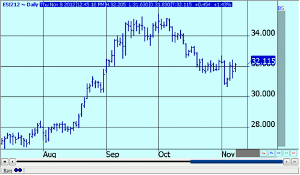 Chart provided by APEX
Click to Enlarge
What now? I believe silver (and gold) have established major tops and should be traded from the short side. Sell rallies and look at support at 27.000 to 28.000 as a target. A close over 33.16 would be a buy signal.
Viewing weekly charts, observing even lower support levels, a bearish trader might be inspired to buy out-of-the money puts.
Defense points or stop-loss orders must be established, based upon risk tolerance, an expectation that profit potential is three to five times greater than dollar amount risked and account size.
Soybeans are next—another major top with a good deal of downside potential. Support is at 13000 to 13500. A close over 15810 would be a buy signal.
Once again, dollar risk on each trade differs with each individual account; but risk amount must be determined before entering into any market.
January 13 Soybean Futures - Daily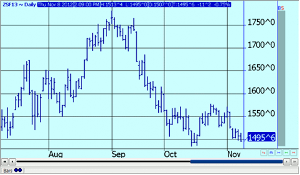 Chart provided by APEX
Click to Enlarge
Now—the stock market—by trading the Mini S&P futures.
I see a major top here, with the possibility of falling to 1260.00 (the Dow futures could reach 12000.00). A close over 144100 would be a buy signal.
December 12 S&P 500 Futures - Daily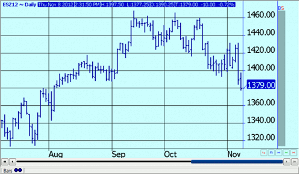 Chart provided by APEX
Click to Enlarge
I think these markets are a good representation of futures trading this year. As we prepare to move into 2013, other markets to watch are copper, crude oil, natural gas, and the US Dollar Index.
So that you don't think I'm the "Resident Bear," please be assured the buy signals earlier in 2012 would have resulted in a bullish article about the long side of the contracts cited above.
By John Booth, Contributor, InsideFutures.com