3 Sectors to Watch Through Year-End
11/29/2012 6:00 am EST
Focus: OPTIONS
As the US stock market bounces around, depending on political comments on the fiscal cliff emanating from Washington, Price Headley of BigTrends.com shares promising breakout signs he sees on some sectors.
With earnings season dominating the headlines and the market's pullback giving the media plenty of fodder, we haven't had a chance to go look for some budding—technical—industry trends that may well holding the market's next great option trades. Here are the ones that caught our eye the most.
Home Entertainment Software
Part of the reason home entertainment software (video games) stocks are falling back into favor right now could be seasonal. But, most of these stocks have recently reported news that could legitimately justify higher stock prices. Just don't fixate on the biggest names in the business, as it's some of the mid-tier names that are actually doing the lion's share of the bullish work here. Either way, there's a ton of room for the index to recover here.
Components of S&P Home Entertainment Software Sub-Sector:
There is not a specific Home Entertainment Software ETF, but investors could look at ETFs such as iShares Software Index (IGV) and Software HOLDRs (SWH).
S&P Home Entertainment Software Index – Weekly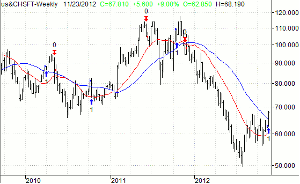 Click to Enlarge
Trucking
It's probably the last industry anybody expected to see great things from right now. But, charts don't lie. The trucking industry's equities have been rallying of late despite the market's meltdown. Yet, in the grand scheme of things, this is just a continuation of a pretty solid uptrend that's been in place since 2009. You've just had to be willing to buy on the dips.
Components of S&P Trucking Sub-Sector:
| | |
| --- | --- |
| Arkansas Best (ABFS) | Patriot Transport (PATR) |
| Avis Budget (CAR) | PAM Transport (PTSI) |
| Celdadon (CGI) | Quality Distribution (QLTY) |
| Con Way (CNW) | Ryder (R) |
| Covenant Transport (CVTI) | Roadrunner Transport (RRTS) |
| Dollar Thrifty (DTGF) | Saia (SAIA) |
| Frozen Food Express (FFEX) | Swift Transport (SWFT) |
| Heartland Express (HTLD) | Universal Truckload (UACL) |
| Hertz (HTZ) | Amerco (UHAL) |
| JB Hunt (JBHT) | USA Truck (USAK) |
| Knight Transport (KNX) | Vitran (VTNC) |
| Landstar System (LSTR) | Werner (WERN) |
| Marten Transport (MRTN) | YRC (YRCW) |
| Old Dominion Freight (ODFL) | Zipcar (ZIP) |
There is not a trucking only ETF currently, but investors could look at Transportation ETFs, such as SPDR Transportation (XTN) and iShares DJ Transportation Index (IYT).
S&P Trucking Index – Weekly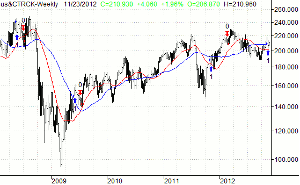 Click to Enlarge
Automobiles
Last, but not least, the automobile industry is off and running. Don't think this is just a Ford (F) thing either, as all the major automaker names—foreign and domestic—are participating in this rally.
Components of S&P Automobile Index (Including Motorcycles):
An ETF that focuses on the auto industry is First Trust Global Auto Index Fund (CARZ).
S&P Automobiles Index – Weekly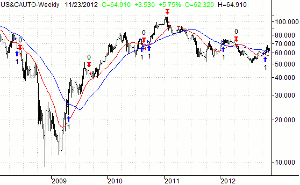 Click to Enlarge
Periodic market corrections over the next few weeks should be buying opportunities and, of course, the challenge as always, would be to find the sectors and stocks that are likely to lead the next market rally.
By Price Headley, Founder and Chief Analyst, BigTrends.com