Waiting for the Stars to Align
01/07/2013 7:00 am EST
Focus: STOCKS
January is off to a rollicking start, up over 300 points on Wednesday over relief that the fiscal cliff impasse was resolved, then down on Thursday after the Fed's December meeting minutes were released. Ryan Mallory of SharePlanner.com shares his current watch list for long swing trades.
There are quite a few contradicting indicators out there, and ultimately, I'm not sure which one wins out on the day. But for now the trend is up (despite it being down just a few days prior) on the daily chart. It's definitely a hard market to trade, and as bad as I would like to jump in front of it and short it, I'm not going to. I've been brave plenty of times in the past and in doing so, about nine times out of ten it doesn't work out well. Predicting against the market trend is one of the hardest, least favorable ways to profit in your trading.
Instead I will stick to trading to the long side…for now until conditions actually change and show a favorable opportunity to get short. Remember, as whipsaw as 2012 felt, there was only three months out of the 12 where we actually finished in the red. So when you get short on the market, you have to be very precise and wait until conditions align favorably. You have to see the setup, not anticipate it.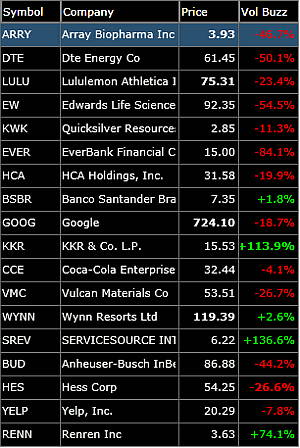 Above, you will find all of the long setups that I am currently following. I may add a few more as long as we don't do another 20-point gapper (which is unlikely at this point).
You have a double bottom there in Quicksilver Resources (KWK), which could ultimately lead to a bounce off of that support level. Banco Santander (BSBR) is setting up nicely again, but I'm a bit spooked by the massive sell-off after reaching major highs Wednesday. I will probably watch that stock for at least another day before making a decision on it.
Also HES Corp. (HES) is pushing through some descending resistance as well, and could be prime for another extended move upwards.
By Ryan Mallory, Founder, SharePlanner.com.