Print Money with This Stock
04/15/2013 7:00 am EST
Focus: STOCKS
After being one of the top-performing stocks in 2012, this has been a reversal year for 3D Systems after topping out at over $46 per share, but technician Greg Harmon of Dragonfly Capital thinks its fortunes are about to change again.
I am talking about 3D Systems (DDD), the 3D printer. This stock has been a popular trading vehicle no matter which side you are on. With nearly 30% short interest, it can be subject to big swings.
The fundamental picture will not get any further clarity until they report earnings at the end of the month, so it is even more important to look at the underlying technical currents when trading this stock. It has been a doozy, completing a AB=CD pattern in late January, but with a twist. The CD leg was a 127% extension of the AB leg. And now it is doing it again. This time the CD leg with a 127% extension measures to 61.40.
3D Systems (DDD)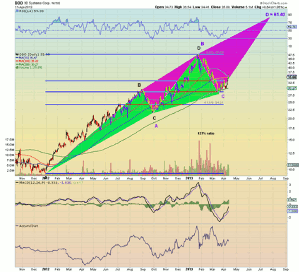 Click to Enlarge
The moving average convergence divergence indicator (MACD) signal line.has been moving off of the low since March 18 and has a long way to go to the previous high. The relative strength index (RSI) also bottomed then and is rising with a lot of room and just now moving into bullish territory. And the accumulation/distribution bottomed at the same time and is moving sideways.
The cross of the 50- and 100-day simple moving averages (SMA) just overhead is the last major stumbling block before it can continue higher and complete the 3 drives pattern at D. If you still need some convincing a trader today bought the May 39 calls and sold the May 27/21 put spread, a bullish risk reversal, 1968 times for 85 cents. This trader expects the price to continue to rise through May Expiry.
By Greg Harmon of Dragonfly Capital