Why You Should Buy Treasuries Now
06/24/2013 7:00 am EST
Focus: ETFs
The sharp sell-off in the bond market has pundits dusting off their prophesies for the end of the 30-year bull market, as Greg Harmon of Dragonfly Capital makes the technical case for buying Treasuries.
If only for a short-term bounce. The charts of the yield of 5-, 10-, and 30-year Treasuries have all had tremendous moves higher out of a base from early May. On a short-term basis, they all look overbought and ready for a pullback. This could be a one- or two-day move or a longer travel back to the base. Here is what to look for.
5-Year Treasury Note Yield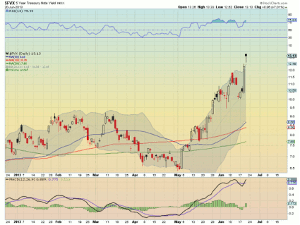 Click to Enlarge
The five-year Treasury has moved from a yield of 75-90 basis points (bp) up to over 130bp. In doing so it has broken out of the top of the Bollinger bands, and Thursday printed a hanging man candle. Confirming lower would signal a reversal with a target of a 38.3% retracement at least to 107bp. The relative strength index is also in technically overbought territory, where it has triggered minor falls in yield previously. This is closest approximated by the ETF SHY.
10-Year Treasury Note Yield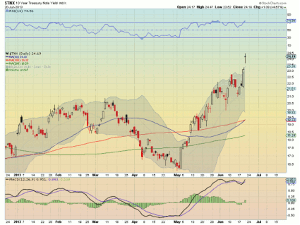 Click to Enlarge
The 10-year Treasury has moved from a yield of 1.63% in early May to a peak at 2.45% Thursday. The shooting star doji print would also signal a reversal to lower yields if confirmed. Out of the Bollinger bands as well, it too is technically overbought on the RSI. A 38.2% pullback on this targets the 2.14% area. The closest ETF to this is the IEF.
30-Year Treasury Bond Yield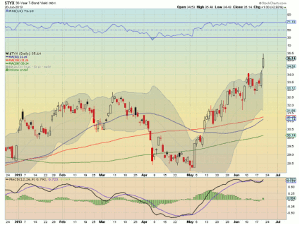 Click to Enlarge
Finally the 30-Year Treasury has moved from 281bp up to a high of 355bp. This 74bp move has resulted in the yield moving out of the Bollinger bands and into technically overbought territory as well. A 38.2% retracement on the 30-year would take it back to 327bp. This is closest to the ETF TLT.
Each of these instruments has a moving average convergence divergence indicator (MACD) that is leveled but trying to move higher. This is a reminder that they do not need to correct this time. They could continue and become more overbought. The confirmation lower is what is needed to turn the analysis into a trade. Remember that Treasury prices trade inversely to yields so to trade these corrections in the ETFs, you will need to buy them.
By Greg Harmon of Dragonfly Capital