2 Longs in a Whipsaw Market
10/11/2013 8:00 am EST
Focus: STOCKS
Ryan Mallory of SharePlanner.com identifies some long setups stocks that he's currently trading.
It's a difficult market for trading when you are relying on a bunch of incompetent politicians to play nice...or better yet be consistent. One poll comes out tells them they are losing ground with the public and they want to talk. Another says they are winning; they don't want to negotiate.
So I'm only doing a couple of trades both to the long side that I find rather favorable on the risk/reward front.
Here are the trade setups:
Long: American Capital (ACAS):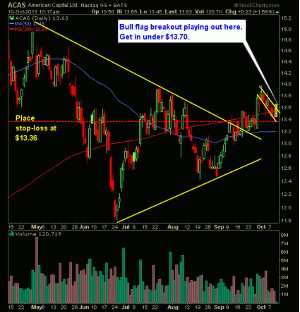 Click to Enlarge
Long: Genworth Financial (GNW):

Click to Enlarge
It is a royal mess and the whipsaw action in the SPX as a result makes trading extremely difficult.
By Ryan Mallory, Founder, SharePlanner.com