No Longer the Apple of His Eye
12/06/2013 7:00 am EST
Focus: STOCKS
Although Apple used to be everyone's favorite tech company, it has since fallen off the pedestal, notes Gary Tanashian of BiiWii.com.
Given that iPad and iPhone are no longer the gizmos to have and that a pack of companies are encroaching on Apple's territory, I don't look at the company the same way I used to (although I still love my iMac, which has served me impeccably for five years now with never so much as a hiccup).
Yesterday there was some China Mobile news for iPhone. Excellent. I hold AAPL along with MSFT (INTC was sold for a small loss after its 2014 guidance was a stinker, although I plan to buy INTC back after it settles, broad market willing) as old guard tech giants. Here is the weekly chart of AAPL with a measurement to 650.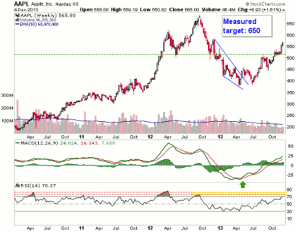 Click to Enlarge
Many months ago I successfully traded AAPL off the bottom for a run toward a measured 530. Then I got impatient and bought it again (too soon) and took a loss on a whipsaw down. But after it cleared resistance (now support, green dashed line), I bought it again for the brokerage account shown in NFTRH and as long as it stays above that line, the eventual target is near but not quite to, the old highs believe it or not. That's the measurement.
I am not sure if I'll stay with it that long. I could sell it today and call it a nice profit or I could play Apple fan boy and hold a while longer. The China Mobile news sounds good but Apple is becoming just a regular company now after breaking so much ground over the last several years.
By Gary Tanashian of BiiWii.com