Natural Gas About to Power Up
01/13/2014 7:00 am EST
Focus: COMMODITIES
Even as arctic cold grips two-thirds of the country, we are about to enter a seasonally optimal period for natural gas, notes Jeffrey Hirsch of The Stock Trader's Almanac.
Based upon the NYSE Arca Natural Gas Index (XNG), there is a seasonal tendency for natural gas companies to enjoy gains. This occurs from the end of February through the beginning of June.
Detailed in the Stock Trader's Almanac 2014 on p. 92, this trade has returned 16.8%, 13.0%, and 12.6% on average over the past five, 10, and 15 years respectively. Concurrent with this is a featured trade on page 32 of the Commodity Trader's Almanac 2013 that is based upon natural gas, the commodity.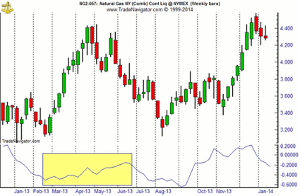 Click to Enlarge
Natural gas' (UNG) fundamentals were quite bleak from 2008 through early 2012. Economic growth was tepid keeping its demand in check while new exploration and production technologies flooded the market with excess supply. Prices plummeted during that time triggering consolidation within the sector, less exploration, and production. However, now producers have much better control of supplies and economic growth is picking up creating additional demand. As a result, natural gas prices have found a floor, but remain quite volatile.
During last year's seasonally favorable period, natural gas rallied from just barely above $3 to nearly $4.50/mmBtu. Although natural gas is currently trading near $4.50/mmBtu, current inventories and demand could easily support much higher prices.
By Jeffrey Hirsch, Editor-in-Chief, The Stock Trader's Almanac