This Week's Short Candidates
02/13/2014 8:00 am EST
Focus: STOCKS
Ryan Mallory of SharePlanner.com shares some of the stocks on his current short watch list.
There's been no real use for the bearish watch-list over the past week or so as the market continues to rip higher at ferocious pace. No one is looking to short, only to cover. So keep this watch-list in case of emergency should the market decide to get bearish again in the near future.
Here's the week's Bearish Watch-List: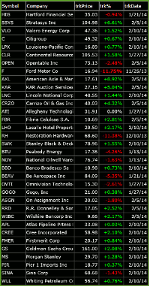 Click to Enlarge
Overall, the setups you are going to find with the watch list above are those stocks that have had a significant sell-off already followed by a dead-cat bounce back up to key resistance levels (i.e. the neckline of a head and shoulders pattern). That is where you want to be shorting these stocks at.
By Ryan Mallory, Founder, SharePlanner.com