3 Aggressive Reversal Plays
04/01/2014 7:00 am EST
Focus: STOCKS
Technician Corey Rosenbloom of AfraidToTrade.com demonstrates how he uses stock scans to identify trade candidates that he might not otherwise discover.
As of the end of the the week, let's look at three stocks that top the most consecutive down days" stock scan—these can be aggressive "retracement/reversal" candidates going into this week.
We'll start in order of number of down-days (daily chart) in a row: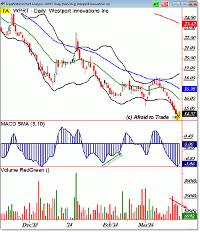 Click to Enlarge
Westport Innovations (WPRT) tops our scan with 14 down (sell) days in a row! Shares developed a reversal and first 'up day' not seen since March 7, three weeks prior.
Our next candidate is Multimedia Games Holding Company (MGAM) with 11 down-days in a row: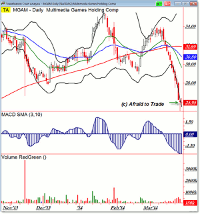 Click to Enlarge
Shares have plunged in a downtrend from the $34 (divergent) swing high to the current $25.00 per share possible inflection (reversal) point. Note the two doji candles but the addition— as of this posting—of a 12th day in a row down.
Finally, retail store Tuesday Morning (TUES) appears on the #3 spot on our stock scan: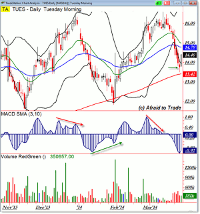 Click to Enlarge
Note the prior divergences at recent turning points (reversals) in the swing structure of price.
While we don't see another divergence currently, shares are trading strongly up off the rising 200- day SMA (inflection point).
We use stock scans to find candidates we would not otherwise discover. Study the charts, key levels, and opportunities closely instead of jumping in with a long (buy) position to play a possible reversal.
Any reversal strategy is aggressive but some traders enjoy these aggressive tactics more than any other strategy.
By Corey Rosenbloom, CMT, Trader and Blogger, AfraidToTrade.com