Is an Energy Meltdown Coming Next?
05/12/2014 7:00 am EST
Focus: STOCKS
It's been rough sledding for the momo Internet and biotech stocks the past two months to say the least. And now it looks like the darlings of the stock market of late—the energy stocks—could be next on the list, writes David Grandey of AllAboutTrends.net.
We've heard time and time again that energy is the place to be. Guess what, two months ago we heard that growth was the place to be. Sure for right now they are overall still standing and in clearly defined up-trends BUT that also can make them a target because? For one thing there is a theme out there of "Those who haven't gotten It MAY yet get It" and two is that it's a crowded place compliments of the rah, rah, rah from the cheerleaders.
Typically when everyone is leaning one way? The market tends to head in the other direction.
We are starting to see some early warning alert patterns showing up in this space in the form of potential double tops. So, that all said IF these names start breaking lower? Are you going to follow the herd off the cliff? Besides, they are ALL extended to say the least and we all know what typically happens to extended bus chasing stocks, right? No low-risk long-side entry points that's for sure.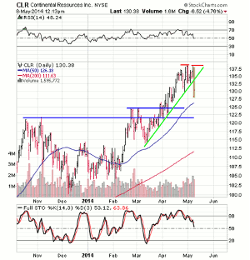 Click to Enlarge
A double top headed into earnings, then POW down she goes. Now take a look at these: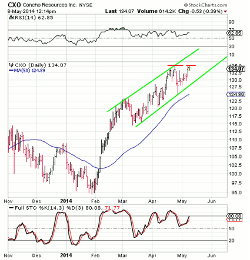 Click to Enlarge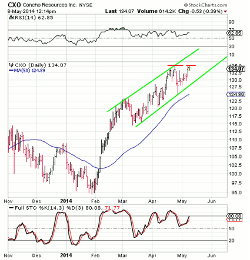 Click to Enlarge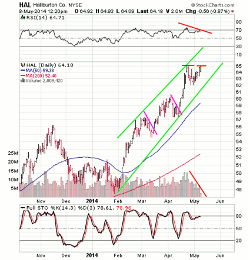 Click to Enlarge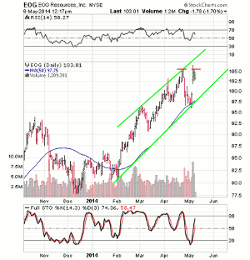 Click to Enlarge
The double-top formation is your early warning sign that a change in trend MAY be near. Rather than chase them here, wait for them to pull back in an orderly manner to support and then buy them as they move higher off of support.
By David Grandey, Founder, AllAboutTrends.net