Watch These Semiconductor Stocks as Samsung Sales Wane
07/16/2014 7:00 am EST
Focus: STOCKS
This leading phone giant is starting to face stiff competition from a number of companies with lower-priced phones and Chris Lau of Kapitall.com thinks this could put pressure on a number of suppliers.
When Samsung (SSNLF) forecast second quarter earnings last Tuesday, the firm revealed competitive pressures are hurting its phone business. The giant expects revenue and profits will not meet consensus. This could put pressure on a number of suppliers.
Samsung disappoints.
Samsung expects profits will be between $6.9 billion-$7.3 billion on revenue of $50.4 billion-$52.4 billion. Competition from low-priced phones in Europe and China are hurting the bottom line. Samsung also expects advertising spending to go up, as low-end Samsung phone inventories remain elevated.
Q3 might be better for Samsung when the firm refreshes its lineup of devices.
Qualcomm (QCOM), which Goldman Sachs (GS) removed from its November conviction buy list, could see lighter demand from Samsung. It supplies the RF transceiver, companion chip, power management Integrated Circuit, and audio codec for the Galaxy S5. The stock is valued at a reasonable 16 times forward earnings.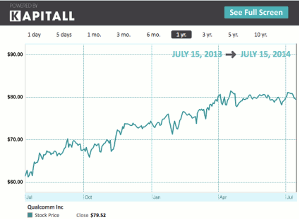 Click to Enlarge
InvenSense (INVN) supplies the gyroscope/accelerometer for the Galaxy. Its stock is up in recent sessions, because of rumors that Apple (AAPL) will use the company to supply the gyroscope in next generation Apple devices. The firm acquired Movea, a software firm for motion and audio sensor data. Before that, it bought Audience, a firm that makes voice processors.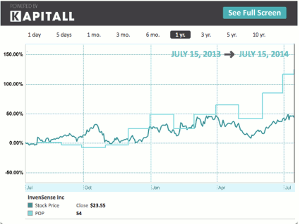 Click to Enlarge
Samsung could use Quicklogic (QUIK) as the supplier for ultra-low power sensors. The firm makes reprogrammable sensor hub chips. If its chips are employed, Samsung's next device could have always-on sensors that use under 2% of battery life.
Do you think semiconductor stocks in the Samsung universe will take a hit from adverse earnings? Use the links below to start your own research.
1. Apple Inc. (AAPL): Designs, manufactures, and markets personal computers, mobile communication and media devices, and portable digital music players, as well as sells related software, services, peripherals, networking solutions, and third-party digital content and applications worldwide. Market cap at $472.72B, most recent closing price at $527.55.
2. InvenSense, Inc. (INVN): Market cap at $1.77B, most recent closing price at $20.39.

3. QUALCOMM Inc. (QCOM): Engages in the development, design, manufacture, and marketing of digital wireless telecommunications products and services. Market cap at $127.33B, most recent closing price at $75.43.
4. QuickLogic Corp. (QUIK): Develops and markets low power customizable semiconductor solutions for tablets, smartbooks, netbooks, cloudbooks, smartphones, datacards, and mobile enterprise products. Market cap at $253.02M, most recent closing price at $5.15.
By Chris Lau of Kapitall.com