Are You Following This Stellar Parabolic Arc?
07/30/2014 7:00 am EST
Focus: STOCKS
For those traders who've not been charting or trading this tech behemoth lately, technician Corey Rosenbloom of AfraidToTrade.com takes a look at its recent rally pattern and shares a possible future direction the stock may take.
If you haven't charted or traded Intel (INTC) in a while, you're missing an amazing arc trendline or exponential rally pattern.
Let's take a look at the pattern, compare similar examples, and plot a potential future for this newly high-flying stock.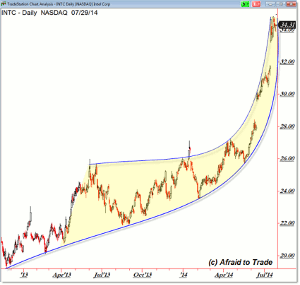 Click to Enlarge
I wanted to start with a pure-price trendline view of the exponential growth (rise) in INTC's stock price.
Starting with the late 2012 low, price began a new uptrend that developed a stable rise that culminated in mid-2014's parabolic trendline arc.
These patterns are usually dangerous and deceptive and draw new traders into the raging river of a straight-up price movement.
As professionals—or experienced traders—can tell you, these patterns rarely end well for the buyers.
Nevertheless, these patterns often continue longer than most traders expect and, in the process, they can devastate the accounts of the (eventually correct) short-sellers or bears.
The general outlook is to follow price or trade aggressively within the upward rise ahead of a likely reversal.
Short-sellers should avoid the stock until it breaks through the rising vertical trendline, which currently overlaps the $34.00 per share level.
Here's the Daily and Weekly Chart for additional perspectives of the parabolic rise: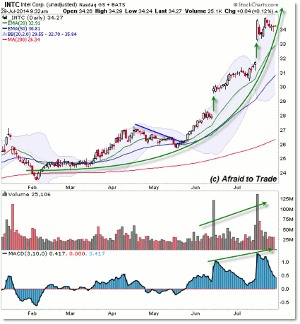 Click to Enlarge
Intel (INTC) Weekly: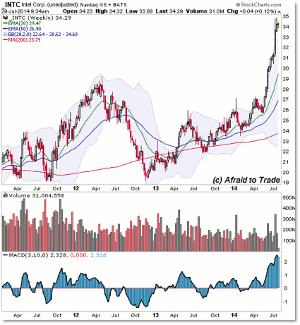 Click to Enlarge
I'll leave the rest of the commentary to you to compare the typical Intel price movement (which is relatively low volatility in a stable stock) to the recent straight-up momentum occurring in mid-2014.
If you enjoy playing reversal patterns, look for a break under $34.00 that carries under $33.00.
If you're an aggressive bull currently long Intel, do be cautious, trail stops closer, hold on tightly for any additional potential parabolic price gain that may occur and don't hesitate to take profits on a breakdown under $34.00 and especially $33.00.
By Corey Rosenbloom, CMT, Trader and Blogger, AfraidToTrade.com