Sector Rotation Update and Charts for August 2014
08/08/2014 7:00 am EST
Focus: STOCKS
By charting the performance on the Sector Rotation Charts, technician Corey Rosenbloom of AfraidToTrade.com analyzes the year-to-date performance of the nine major broad indices.
What are Sector Rotation Charts hinting about the hidden strength (or weakness) of the broader market?
Let's take a look at our new Sector Rotation Model charts: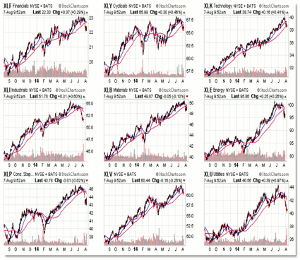 Click to Enlarge
A quick view of a one-year chart glance at the nine major AMEX Sector SPDRs shows strong uptrends in all sectors.
This is an ongoing bullish sign that has developed within the context of a similar non-stop rise in the broader indexes such as the S&P 500 (SPX) from mid-2013 to present.
Despite the strength, we see sharp recent pullbacks (sell-offs) also in all sectors again within the context of a broader market sharp pullback.
Interestingly, the sector that pulled back the most was the Utilities (XLU) sector.
Sharp pullbacks also occurred in the Defensive Staples (XLP) along with the Offensive Industrials (XLI), Financials (XLF), and Energy (XLE) sectors.
Healthcare (XLV), Materials (XLB), and Technology (XLK) showed relative strength by staying closer to the uptrending highs.
We can get more specific by viewing the Year-to-Date (YTD) performance of these sectors:

Click to Enlarge
We typically divide the Sector Rotation Grid into Offensive (bullish/healthy) sectors such as Financials/Technology and the Defensive Sectors such as Staples/Utilities.
Year-to-Date, our highest three performing sectors cut the traditional gridlines as Defensive Healthcare rose over 10%, Energy rose 9%, and Technology rallied almost 9%.
The other two top names include Defensive Utilities (not necessarily a bullish sign) and offensive Materials.
Our worst performing sectors, so far, in 2014, include Offensive Cyclicles (XLY) (Consumer Discretionary) and Industrials (both down about 1% on the year).
Balance your comparisons with the S&P 500 index (SPX), which is up about 4% year to date.
The message would be clearer if sector strength was widely concentrated within the green 'offensive' sectors or the red 'defensive' sectors, but you can see the mixed picture in the graph above.
This is a mixed picture and calls for additional analysis into specific sectors—along with leading companies in these sectors.
By Corey Rosenbloom, CMT, Trader and Blogger, AfraidToTrade.com