Top Trade Ideas for the Week
08/26/2014 7:00 am EST
Focus: ETFS
Greg Harmon of Dragonfly Capital shares some good setups he's found after reviewing over 1,000 charts.
Pfizer, (PFE), has been pulling back since a top in early March. The last few legs suggest a bounce higher may be in the process now that could take it to 30.30. A shorter perspective sees a bull flag consolidation that could target 29.90 in short order on a move higher. Either way, with the RSI rising and the MACD following suit higher as well, the bias is to the upside. There is resistance at 29 and 29.80 before 30.60 and 31. Support lower comes at 28.70 and 28.
The target move higher may not seem like much but using options you can look for a possible 100% gain or more by next week.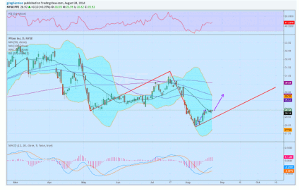 Click to Enlarge
Trade Idea 1: Buy the stock on a move over 29 with a stop at 28.70.
Trade Idea 2: Buy the September 5 Expiry 29 Calls (offered at 23 cents late Friday).
Trade Idea 3: Buy the August 29 Expiry 28.5/29 Call Spread (36 cents).
Trade Idea 4: Buy the September 5 Expiry 28.5/29 Call Spread and sell the September 5 Expiry 28.5 Put (25 cents).
Trade Idea 5: Buy the September 5 Expiry 28.5/29 bullish Risk Reversal (13 cents).
The Rest
After reviewing over 1,000 charts, I have found some good setups for the week. These were selected and should be viewed in the context of the broad Market Macro picture reviewed Friday which, heading into the last week of summer sees the equity markets looking strong and ready for more. Elsewhere, look for Gold to continue lower in its intermediate term consolidation phase while Crude Oil continues lower. The US Dollar Index and US Treasuries look to continue to the upside. The Shanghai Composite also looks strong and is biased higher while Emerging Markets try to burn through past history near resistance and may consolidate for another week in their uptrend. Volatility looks to remain subdued keeping the bias higher for the equity index ETFs (SPY), (IWM), and (QQQ). The QQQ's continue to look very strong and are biased higher while the SPY is not quite as strong on the shorter timeframe and may need to consolidate. Both are at big round numbers that could stall any further move. The IWM looks to continue to improve in its consolidation range.
By Greg Harmon of Dragonfly Capital