Soft Commodities Driven Lower on Bumper Crop Expectations
09/18/2014 7:00 am EST
Focus: COMMODITIES
Trader Anna Coulling of AnnaCoulling.com charts soft commodity prices, which continue to move lower and she shares her outlook for the trend moving forward, given more fair weather conditions and the continuation of the US dollar recovery.
Almost perfect weather conditions across the principle growing regions in the US and the prospect of record crops continue to push soft commodity prices lower and with harvesting now underway, this trend now looks set to continue, with further good weather to come. For wheat, the bearish trend has been slow and steady, starting back in May with the commodity trading at 760 per bushel, before declining steadily, followed by a pause point in the 580 to 620 per bushel area, before this level was also breached, with a further move down and followed by an extended phase of price congestion which extended through the summer months in the 580 to 540 per bushel region and creating a strong and well defined level of resistance and support. This level too, has since been broken with last week's price action finally piercing the platform of support, and moving lower once again to breakthrough another psychological level at 500 per bushel to trade at 495.75 on the December contract at the time of writing.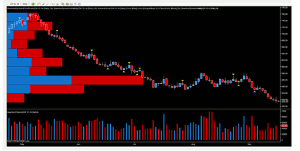 Click to Enlarge
Moving to the trading volumes, the price action in August is perhaps the most revealing. The initial rally in early August was accompanied with falling volume, followed by the final wide spread up candle on high volume which failed to follow through and was immediately followed by a series of down candles with high volume. A clear sign of weakness. Further attempts to rally continued to look weak, with the penultimate candle of August finally delivering a further strong signal as the market attempted to rally once more on high volume, but with a narrow spread candle. Since then, the market has declined slowly but it is interesting to note that the volumes associated with the last two weeks have been average, suggesting that this move is potentially coming to an end as the crop is harvested.
Last week's USDA report merely reflected what the market had expected with record yields and benign weather conditions confirming the positive picture for all the softs. Finally, with the US dollar continuing to recover and move higher on the dollar index, and with the CRB index moving relentlessly lower, the outlook for many commodities is bearish at present as the confluence of supply and demand—coupled with the US dollar—drive the markets.
By Anna Coulling, Professional Trader & Blogger, AnnaCoulling.com