Stalking Illinois Tool Works for a Trade
09/19/2014 7:00 am EST
Focus: STOCKS
Greg Harmon of Dragonfly Capital charts the summer performance of a leading producer of engineered fasteners and components in direct correlation to August temperatures and the two technical patterns that suggest more upside as we head into fall.
The chart of Illinois Tool Works (ITW) stock price looks a lot like the temperature here in Cleveland. Rising into the summer, but then the polar vortex took hold and summer was more like spring weather. But heading into the end of August that heated up again. From what I see in the chart, though, I expect some divergence with the temperature into the fall.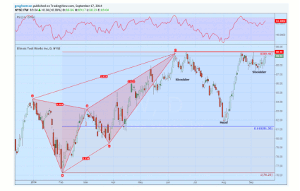 Click to Enlarge
The price action from the beginning of 2014 through to early June traced out a bearish Deep Crab harmonic. This called for a possible pullback near 89.45 and what happened was a nearly 61.8% retracement of the pattern. A strong-nearly perfect-reset. The buying then created a sharp 'V' shaped correction back to prior resistance. What makes it interesting now is there are two technical patterns that suggest more upside. The first is a Measured Move. Looking at the move from 82 to 89.50 and then projecting that higher from the slight pullback to 87.50 carries a target higher to 95. The second is an Inverse Head and Shoulders pattern that would trigger over 89.50, in this case, the neckline, and carry a price objective to at least 97.30. What is important is that both point higher independently and are supported by a rising and bullish RSI.
By Greg Harmon of Dragonfly Capital