Gapping Up Into 2015
01/05/2015 7:00 am EST
Focus: STRATEGIES
Springheel Jack of SharePlanner.com reviews last Wednesday's impressive decline and last Friday's gap up for the S&P 500, which he sees as a promising start for bulls going into 2015, if, of course, it can be sustained.
That was an impressive decline on last Wednesday and that was a match to the bearish long term stats for the last trading day of the year. The stats on Friday are neutral to very slightly bearish, though it has been a decent performer in recent years and the gap up Friday is a promising start for bulls if it can be sustained.
Short-term a falling channel was established at the lows on Wednesday and if that holds, then the next obvious move would be a retracement to channel resistance in the 2075-80 area.
SPX 5min chart: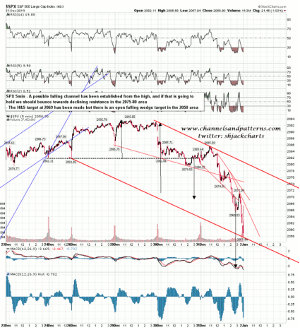 Click to Enlarge
If SPX turns back down then it will be worth noting that there is now a clear rising wedge from the October low and that wedge support is currently in the 2010 area. There is decent support not far under Wednesday's low, however, with the daily middle band at 2054 and both the 50-day MA and EMA in the 2035 area. While I'm expecting a move to test wedge support in the next couple of weeks, I'd favor a retest of the highs first to set up a small double top.
SPX daily chart: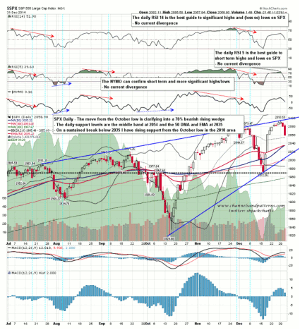 Click to Enlarge
My lean on Friday is towards a bounce or consolidation. Volumes are still likely to be depressed Friday so the day may well, in any case, not be very interesting.
By Springheel Jack, Contributor, SharePlanner.com