Caterpillar Shatters Support: Updating New Trading Levels
01/28/2015 7:00 am EST
Focus: STOCKS
Technician Corey Rosenbloom, of AfraidToTrade.com, illustrates how shares of this stock shattered support on an earnings miss Tuesday morning and thinks traders should now keep an eye out for a simple sell-signal but also be on the lookout for a vicious bear trap.
Caterpillar (CAT) shares shattered support at the $85.00 per share level on an earnings miss Tuesday morning.
Wall Street consensus estimated a gain of $1.55 per share, yet the actual reported earnings were $1.35 per share.
Traders subsequently punished the stock with a downside gap and break of a trendline and key support level.
Here's the Daily Chart, though the Weekly Chart will give a broader perspective with targets: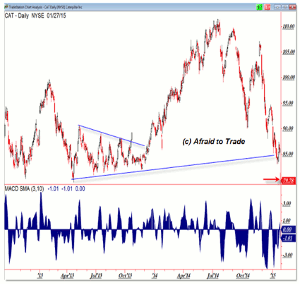 Click to Enlarge
Shares initially bounced (rallied) up off the $85.00 per share rising trendline level, only to see Tuesday morning's earnings gap collapse price straight toward the $80.00 per share level.
Let's actually turn our attention—and planning—to the Weekly Chart where we can see the broader picture: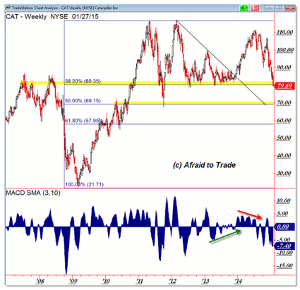 Click to Enlarge
I drew a simple Fibonacci Retracement grid from the 2009 low near $21.70 per share all the way to the $110.60 high into 2012.
Price has traded between the 38.2% retracement and the high ever since this high.
Notice the key support—highlighted—of the 38.20% level into $80.00 per share.
That's our major focal point here; shares are bearish as a downside (sell) pathway opens under $80.00.
A simple sell-swing could take price back toward the midpoint or $70.00 per share confluence (target).
Otherwise, be on guard for a vicious Bear Trap, which could trigger on an instant return above $80.00.
We're often charting—and thus trading—price as it moves toward or away from a key level.
For Caterpillar (CAT) shares, this level is simply $80.00 per share.
The next few swing or short-term trades should take place within this context, a movement (trap) up away from $80 or else a breakdown/shatter sell signal under $80.
By Corey Rosenbloom, CMT, Trader and Blogger, AfraidToTrade.com