Bonus Trade Idea for the Week March 23, 2015
03/24/2015 7:00 am EST
Focus: STOCKS
With the momentum indicators being bullish heading into this week and the RSI moving higher, Greg Harmon,of Dragonfly Capital, takes a technical look at this stock in the retail sector and offers five possible ways to trade it.
TJX, (TJX), jumped higher after reporting earnings in August and then consolidated. The stock never pulled back with the market in October and that got some people's attention. In fact, as the market started to rise, TJX started to push higher through the end of the year. In 2015, it has tightened consolidation against resistance at that end of year high, in an ascending triangle. On a conservative measure, if it breaks to the upside, it would establish a price target of 78. The last leg higher took 2 months.
The momentum indicators are bullish heading into this week, with the RSI moving higher. It has been bullish for over a year. The MACD crossed up Friday, giving it a bullish signal. Finally, the Bollinger Bands® are tightening, often a precursor to a move.
There is no resistance above the top at 69.50 to 70. Support lower may be found at 67.60 and 65.65 followed by 64.25 and 61. Short interest is negligible at less than 1% and the company is expected to report earnings next in late May.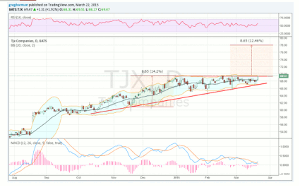 Click to Enlarge
Trade Idea 1: But the stock on a move over 69.75 with a stop at 67.50.
A straight stock buy.
Trade Idea 2: Buy the April 70 Calls (offered at $1.00 late Friday) on the same trigger.
A defined risk way to participate in upside price action.
Trade Idea 3: Buy the May 70/80 Call Spread (about $1.50).
Give the stock more time to move higher and caps the return for lower cost.
Trade Idea 4: Buy the July 65/70 bullish Risk Reversal ($1.40).
Adds leverage from the short Put and long-term upward potential at low cost.
Trade Idea 5: Buy the October 70/80 Call Spread ($3.20) and sell the April/October 67.5 Put Calendar ($2.80 credit) for a net 40 cent cost.
Gives a long-term upside potential in the call spread and lowers the cost by selling the Put Calendar, to give big leverage, but also protection through April Expiry.
By Greg Harmon of Dragonfly Capital