Price with Nowhere to Run
04/23/2015 7:00 am EST
Focus: STOCKS

Despite what appeared likely to be a breakout of consolidation for the S&P 500 on Monday, Ryan Mallory, of SharePlanner.com, illustrates how it—yet again—gave back most of those gains and he shares his technical outlook for the market along with several trades he made on Tuesday or was considering making on Wednesday.

Technical Outlook:
SPX continues and continues to struggle for real direction. Despite what seemed like a likely breakout of consolidation on Monday, SPX yet again decided to give back those gains and trade in the monotony of consolidation that has plagued this market for the entire year minus one episode in February that provided traders with some nice gains.
Ultimately, a move over 2111 would be very healthy for the market. Right now, despite it being so close, it feels so far away for the bulls to attain.
However, for the bears, getting short this tape is only good for 1-2 days at best before the upside rips take hold.
SPY showed very weak volume on the pullback Tuesday.
VIX continues to bounce around the 12.70s as it did Tuesday.
T2108 (% of stocks trading above the 40-day moving average) is still at around 58% and has hardly moved over the past few weeks.
2080 needs to hold on SPX following the uptrend off of the uptrend from the October 16, 2014 opening price.
With Monday's move, the SPX chart has managed to break back above resistance (dotted line below). However, there is now a secondary resistance level that formed with Friday's rejection by connecting the candle shadow tops. Resistance for this is at 2111.
Bullish kicker candle patterns were formed across the board for SPY, DIA, QQQ, and IWM, during the Friday sell-off and Monday rally.
SPX 30-minute chart shows very little at this point except for the choppiness between 2075 and 2111 of late.
The market doesn't care about the economy nor earnings. That is not what is driving it. The market only cares about what the Fed is doing to keep equities propped up.
My Trades:
Added one new long position Tuesday. Closed one long position Tuesday.
30% long / 70% cash.
I'll consider adding 1-2 new positions Wednesday dependent on the strength of Wednesday's price action.
Chart for SPX: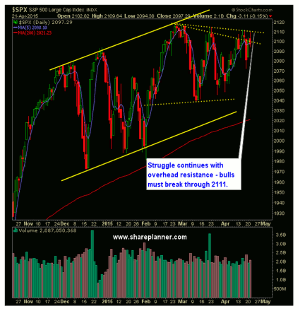 Click to Enlarge
By Ryan Mallory, Founder, SharePlanner.com