Jobs Week Awaits
05/05/2015 7:00 am EST
Focus: STOCKS


Ryan Mallory, of SharePlanner.com, outlines how the bulls are back within reaching distance for all new highs and why he thinks the bears are inept at sustaining any kind of selling momentum. He also shares the trades he managed to execute last week and the ones he was considering on Monday.

Technical Outlook:
The all-too-common snap back rally after a heavy sell-off the day before is becoming far too common in the current market.
Bears simply are becoming inept at sustaining any kind of selling momentum from a day-to-day basis.
As a result, bulls are back within reaching distance of new all-time highs.
5-, 10-, 20-, and 50-day moving averages were all recovered for SPX.
VIX saw a massive sell-off of 12.7% going back down to 12.70.
Minor bounce out of the T2108 Sunday (% of stocks trading above their 40-day moving average), only bouncing 8.7% to 50%.
Average volume in SPY for the above average move higher that we saw. Less than the volume of the two previous days of selling.
Bears need to push price back below the closing price of last Thursday's sell-off. That would re-inspire the markets to push substantially lower.
Bulls need to establish new all-time highs. If not, it risks being stuck in the range-bound price action it has found itself in for all of this year.
30-minute chart of SPX is very choppy and without any clear direction.
SPY trend line off of the February lows held up perfectly.
The market doesn't care about the economy nor earnings. That is not what is driving it. The market only cares about what the Fed is doing to keep equities propped up.
My Trades:
Closed out AER on Friday at 48.83 for a 4.1% gain.
Added one new position on Friday.
10% long / 90% cash.
I'll consider adding 1-2 new positions Monday dependent on the strength of Monday's price action.
Chart for SPX: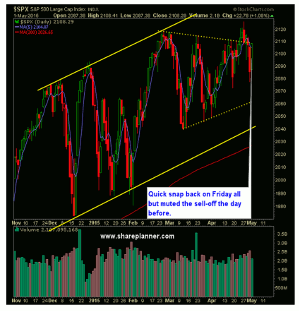 Click to Enlarge
By Ryan Mallory, Founder, SharePlanner.com