Focus on the Road Higher in Mobileye
06/26/2015 7:00 am EST
Focus: STOCKS
Greg Harmon, of Dragonfly Capital, takes a technical look at a company on the leading edge of the technology involved in what may be the next wave in transportation; driverless cars. Greg charts the stock's current consolidation and suggests a possible entry point on a break over this level as well as the natural place for a stop.
Driverless cars may be the next wave in transportation. Think about how much better your commute could be if you could read, respond to clients, sleep. Or the family trip if you could join the kids in watching that movie or reading a book. My wife is already saying that our next car will be driverless. Hurry up guys, my Armada already has 125,000 miles on it.
One company on the leading edge of the technology involved in this is Mobileye (MBLY). They design and develop software and related technologies for camera-based advanced driver assistance systems. Based in Israel, they have a big potential ahead of them if successful. And their stock price is showing signs of that now.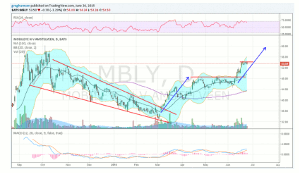 Click to Enlarge
The chart above shows the price action over the last year. Notice the big downward falling wedge from September until the break higher in March. The break targeted a price of 48 and it hit that by mid-April. Since then it consolidated for two months before pushing higher again. This break over 48 triggered a Measured Move to about 60.
You can see from the current consolidation at 54.25 that the price is about halfway there. If you have not been involved in this stock, a break over 54.25 is a good spot to enter. It gives a natural stop below the consolidation at 52.75, for a 3.8:1 reward to risk ration on a move to 60. The Momentum indicators support a move like this with the RSI bullish and the MACD rising.
And with 13% short interest it could get the benefit of a short squeeze as well.
By Greg Harmon of Dragonfly Capital