The Unseen Value in News Corp.
08/06/2015 7:00 am EST
Focus: STOCKS
The growing consumption of online content is making stock of traditional news sources an unpopular area for investing, but the staff at Kapitall.com illustrates how a recent upgrade and strong book sales could help one company turn things around, despite the fact that the market is not yet reacting to the news.
News Corp.'s biggest brands are struggling, but a recent upgrade and high book sales could turn things around.
Growing consumption of online content is making traditional news sources an unpopular area for investing. News Corp. (NWSA) is bucking that trend. The firm was upgraded by Macquarie on July 27, with analysts citing a rebound in earnings as reasons for the upgrade.
News Corp. will report fourth-quarter earnings on Thursday, August 6. Macquarie is anticipating EBITDA (earnings before interest, taxes, depreciation and amortization) improving around 23%. Higher revenue is also possible: Go Set a Watchman—To Kill A Mockingbird author Harper Lee's latest book, which is being published by subsidiary HarperCollins—sold 1.1 million copies in its first week.
The market is not reacting to the strong book sales: News Corp's stock is down 17.1% in the last year: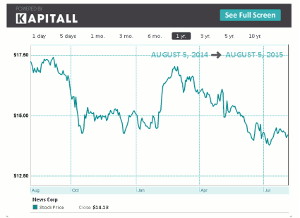 Click to Enlarge
Investors are likely focusing on the weakness at Dow Jones and The Wall Street Journal. The shift from print to digital media is one of the reasons for News Corp. cutting jobs. The lower headcount may save on costs, but it also signals the limited growth for the unit in the short-term.
Thompson Reuters (TRI) is another company investors should consider in the financial news and research space.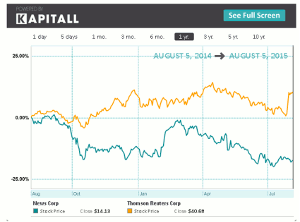 Click to Enlarge
Thompson Reuters is more expensive than News Corp. on a P/S (price to sales) basis: its P/S stands at 2.59 while News Corp.'s is 0.97.
Solid quarterly results justify the premium Thompson Reuters has over News Corp. In the second quarter, the Canadian company earned $262 million in profit or $0.33 per share, up from $249 million or $0.31 per share, a year ago. Revenue was up 2% when excluding currency impact; otherwise, revenue fell 3.8% to $3.04 billion. For the rest of the year, Thompson Reuters expects organic revenue growth and EBITDA margin as high as 28.5%.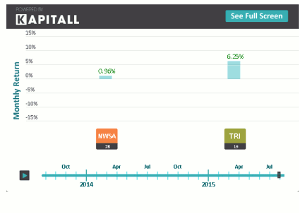 Click to Enlarge
1. News Corporation (NWSA): Operates as a diversified media company worldwide. Market cap at $8.51B, most recent closing price at $14.66.
2. Thomson Reuters Corporation (TRI): Provides intelligent information for businesses and professionals in the financial, legal, tax and accounting, healthcare, science, and media markets worldwide. Market cap at $32.09B, most recent closing price at $40.68.
(Monthly return data sourced from Zacks Investment Research. All other data sourced from FINVIZ.)
By the Staff of Kapitall.com