Shifting Triangles in the S&P 500
09/11/2015 7:00 am EST
Focus: MARKETS
Many will look at the move the S&P 500 made on Wednesday as a failed breakout and suggest the markets are doomed, but Greg Harmon, of Dragonfly Capital, thinks the price action also strengthens the importance of risk management and offers traders several new areas of interest to consider.
Wednesday started out so promising for the S&P 500 (SPX). A gap higher over a symmetrical triangle could be the reversal that sounded the all clear signal. But as soon as the market opened the S&P started to sell-off. And after a steady trend down day ended right back in the middle of that triangle. It was so unhappy that the S&P ratings agency downgraded Brazilian debt to junk.
Many will look at that move and failed breakout and suggest that the markets are doomed. But there was one line in my remarks on Wednesday about the index:

"A move over 200 would add even more strength." That did not happen. So it is now that I present a new view of the S&P 500.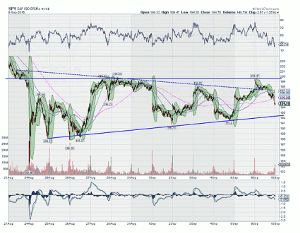 Click to Enlarge
The prior S&P 500 symmetrical triangle is left in as the dotted line, but the new solid line at the top creates an ascending triangle. This triangle shows a solid bounce off of the top at about 119.50 and reversal towards the bottom, now at about 192. Why did I redraw this? Not because I need to be right, but because I want to be right. Right about risk management. And the new line is important because the price action Wednesday showed us that it is important. A shift in triangles from symmetrical to ascending.
So moving into Thursday the downside has a preference with 192 a level of interest and then the bounce points at 191.60 and 190.73 before 188.37. Any of those levels or none of them could end up giving support. And with the oversold RSI, it could just as easily go up. There are no crystal balls here, just observations of areas of interest that can be used for risk management.
By Greg Harmon of Dragonfly Capital